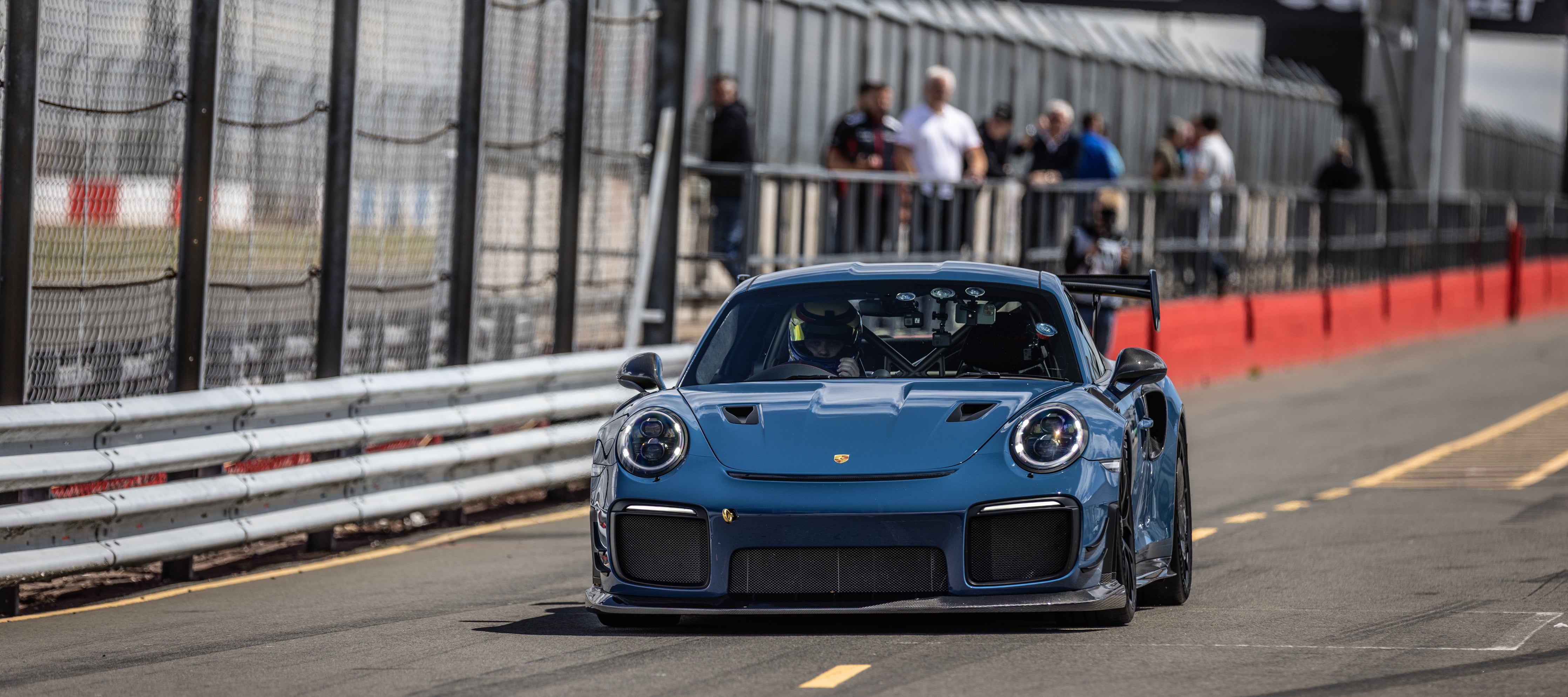 DONINGTON PARK GP LAP RECORD
On Monday 4th July 2022 Porsche Sutton Coldfield held an exclusive track day at Donington Park's GP Circuit which we had the pleasure of attending.
The weather was perfect and with limited attendance the track time was extremely valuable to us, testing some new parts plus debuting the JCR GT2RS MR in its new Neptune Blue paintwork courtesy of Logic VPC.
Whilst we had some new items on the car, unfortunately we weren't able to run our exhaust due to the day being ran with an extremely low dB limit.
Car spec on the day was as follows:
MANTHEY RACING PERFORMANCE KIT
MICHELIN CUP2R TYRES
STOCK EXHAUST SYSTEM (very low dB limit day)
GUNTHERWERKS CARBON FIBRE FRONT SPLITTER
GUNTHERWERKS CARBON FIBRE SIDE SKIRTS
JCR SEAT CUSHION COVERS (CLASSIC PEPITA - FIXED)
JCR TITANIUM FOLDING TOW HOOK (RED)
SURFACE TRANSFORMS PCCB REPLACEMENT BRAKE KIT
PAGID RSC1 BRAKE PADS
Not only did we enjoy some valuable track time and networking during the day, Porsche Sutton Coldfield and Porsche GB arranged for us to have 30 mins exclusive track time during the lunch break for us to attempt in breaking the current fastest road legal car's fastest lap time of a 1:34.29.
The weather was on our side and the empty track was the perfect set up for this so we were very excited to get out there to give the lap a go. We installed a new set of Michelin Cup2R tyres and on the second flying lap beat the current fastest lap time by 1.42 seconds and secured a new road car lap record of 1:32.71.
Our two lap run pace was as follows:
Lap 1 - 1:32.77
Lap 2 - 1:32.71
On lap three of the first run the tyre pressures began to creep up a little and half way around the lap I was around 2 tenths down so decided to call it a day.
This not only demonstrates the incredible pace that this car can deliver but also the consistency of the package. No doubt there is more lap time there with a more track focussed set up however we drive this car to every event so road compliance is as important to us as ultimate lap times.
We're running the car with very mild camber settings so plenty of pace in the pocket incase we need to find some more speed in the future.
Driver; Jonny Cocker
It was a great day had by all. Thank you to Porsche Sutton Coldfield for a fantastic day and the opportunity to demonstrate what the JCR GT2RS MR is capable of!
JC