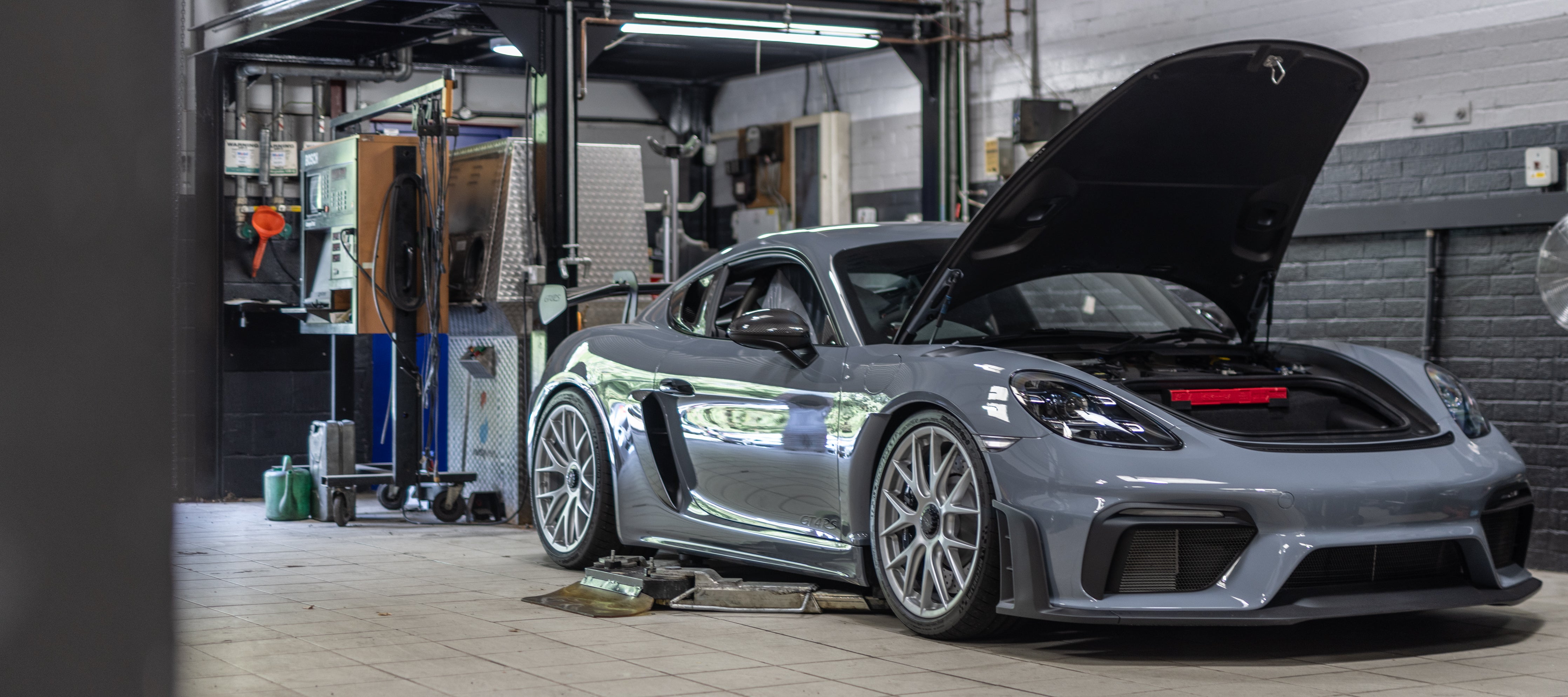 JCR 718 GT4 RS PROJECT - INSTALMENT 01 (SUSPENSION & BRAKES)
If you've not already heard, we're extremely excited to have introduced a stunning new Arctic Grey 718 GT4 RS into the JCR garage. We don't waste time here at JCR, so upgrading the car was almost immediate, installing a bunch of existing products to the car along with some interesting development parts too.
After the success of our JCR 718 GT4 v2.0 build updates, there was no doubt in our minds but to document the full JCR GT4 RS build too. Over the coming weeks, we will be sharing regular updates until we reveal the car in its 'completed' state, the JCR 4RS.

As we're sure you guys know, we love the 718 platform, having previously had two 718 Cayman GT4's so it was time to go for the big one.
We've spent a fair bit of time with the GT4 RS developing our rear silencer replacement options however these fantastic cars have so much more potential yet to be unleashed. 
In this first instalment, we'll be covering the Suspension & Brake enhancements we've made to the car, readying it for its first track session later this week.
Usually, we're pretty quick to swap out the OEM suspension, but not this time. We wanted to understand in greater detail what direction Porsche headed with their 4RS suspension developed over that of a 'standard' 718 GT4. 
This is where our close friends at JZM Porsche come in.
We set up our 718 GT4 RS with the exact same geometry settings as our 718 GT4 v2.0 build which will allow us to baseline the factory 4RS suspension against a known quantity of our 718 GT4 installed with Manthey suspension kit.
It's already clear that we can make some pretty sizeable improvements and we're looking forward to getting the car on track to exploit the limitations of the factory dampers / springs and make a plan for what we will be able to bring to market to improve upon the factory set up.
As well as suspension, we also decided to increase the stopping power of our 4RS. The car came from the factory with OEM Iron Brakes installed as PCCB option was not available at the time of speccing, so it was time to change them up to a set of Surface Transforms Ceramic discs along with a set of Pagid RSC1 pads.
Thankfully, due to our centre lock replacement on our previous 718 GT4, we could directly transfer the full brake kit from our 718 GT4 v2.0 build. Now, we've got the stopping power we're used to in preparation for a whole load of track miles we plan to cover during the remainder of the 2023 season. 
Keep an eye out next week for some much-needed interior upgrades. We'll also be at the Supercar Driver Secret Meet on Monday & Tuesday, so feel free to say hi when you see any of our team!