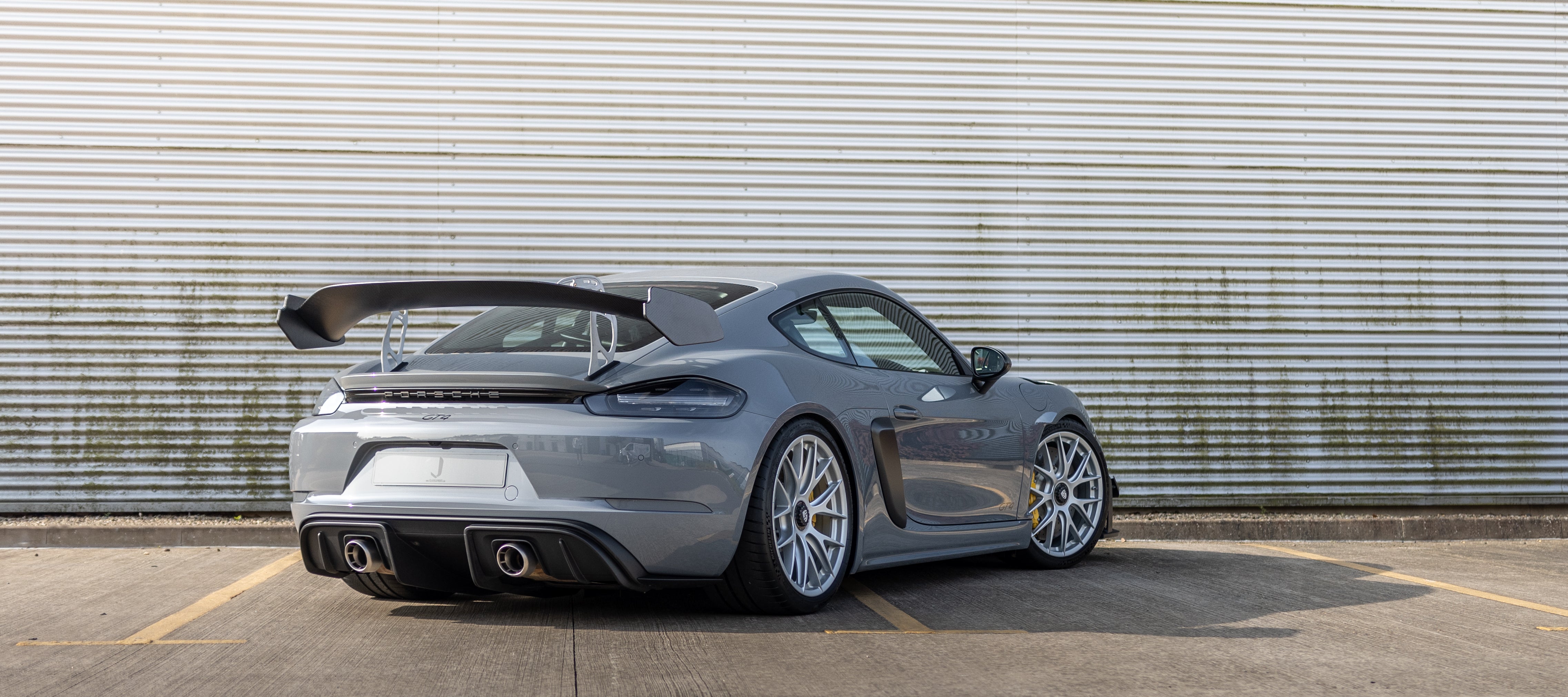 JCR 718 GT4 v2.0 PROJECT - INSTALMENT 10 (3D PRINTED WING UPRIGHTS / CARBON END PLATES & MORE)
We're back with another exciting update on the JCR 718 GT4 v2.0 project!
Over the last two weeks we have been figuring out the very final details on a few new products suitable for 718 GT4 / RS. The first of which being our 3D Printed Titanium Wing Uprights, which you may have caught some teasers of over on our social channels.
The main objective of this product is to reduce weight and improve efficiency of the factory wing by means of optimising the wing position which in turn, allows for a reduced AOA (angle of attack) and this reducing drag whilst maintaining a desirable F/R aero balance.
Weight has dropped from 1.26kg per wing upright (factory 4RS) to 0.49kg per JCR Wing Upright, saving a total of 2.52kg (per pair) whilst delivering a stiffer and more aerodynamically streamlined design thanks to various small details.
We'll be going into lots more detail on these parts, the design, development and testing process upon release but for now, enjoy a few images below.
Another project that we have been working on in the background is our full Carbon Fibre replacement end plates suitable for 718 GT4 RS.
The parts pictures above are in polished finish, no lacquer. However, we will be offering various finishes and the parts pictured below have been finished in satin lacquer to compliment the finish of the wing.
This full pre prep Carbon Fibre piece is a direct replacement for the factory end plate and not only drops weight by 0.52kg (per pair) but also compliment the factory 718 GT4 RS Carbon Fibre wings construction along with some subtle design changes to add some visual impact.
The car was also back at JZM for prep prior to the next few weeks activities and to check that all parts are performing well.
The factory rear silencer was re installed to ensure that we can pass noise limits on the Spa and Nurburgring along with new suspension geometry settings being applied, a compromise for the Spa Francorchamps 'GP' style circuit and the unique challenged of the Nurburgring Nordschleife.
We also had our second set of 4RS Magnesium wheels finished in Bright Satin Silver and fitted up with a fresh set of Cup2 tyres with the original Black set being installed with a new set of Cup2R tyres ready for some fast laps!
Super happy with the look of the car, the Silver Mags really do look great against the Arctic Grey paint work.
Finally the car was installed with a set of our Inconel Tip Adaptors plus our Titanium Weissach Tips to the factory rear silencer which really improve the look at the rear.
Once the car returned we were able to install our pre production 3D Printed Titanium Wing Uprights along with our production spec Carbon Fibre End Plates on the factory 718 GT4 RS wing to our car and the pictures below speak for themselves.
Now we embark on a week long ~2000 mile road trip where we will see us take part in three intensive days on track. Two days at Spa Francorchamps followed immediately by a day at the Nurburgring on the Manthey Track Day where we can verify the effectiveness of these parts in a real world setting, on and off the track.
Already looking forward to sharing the results upon our return to the UK, in the mean time if you have any questions regarding any of the new products or development please don't hesitate to contact us
JC