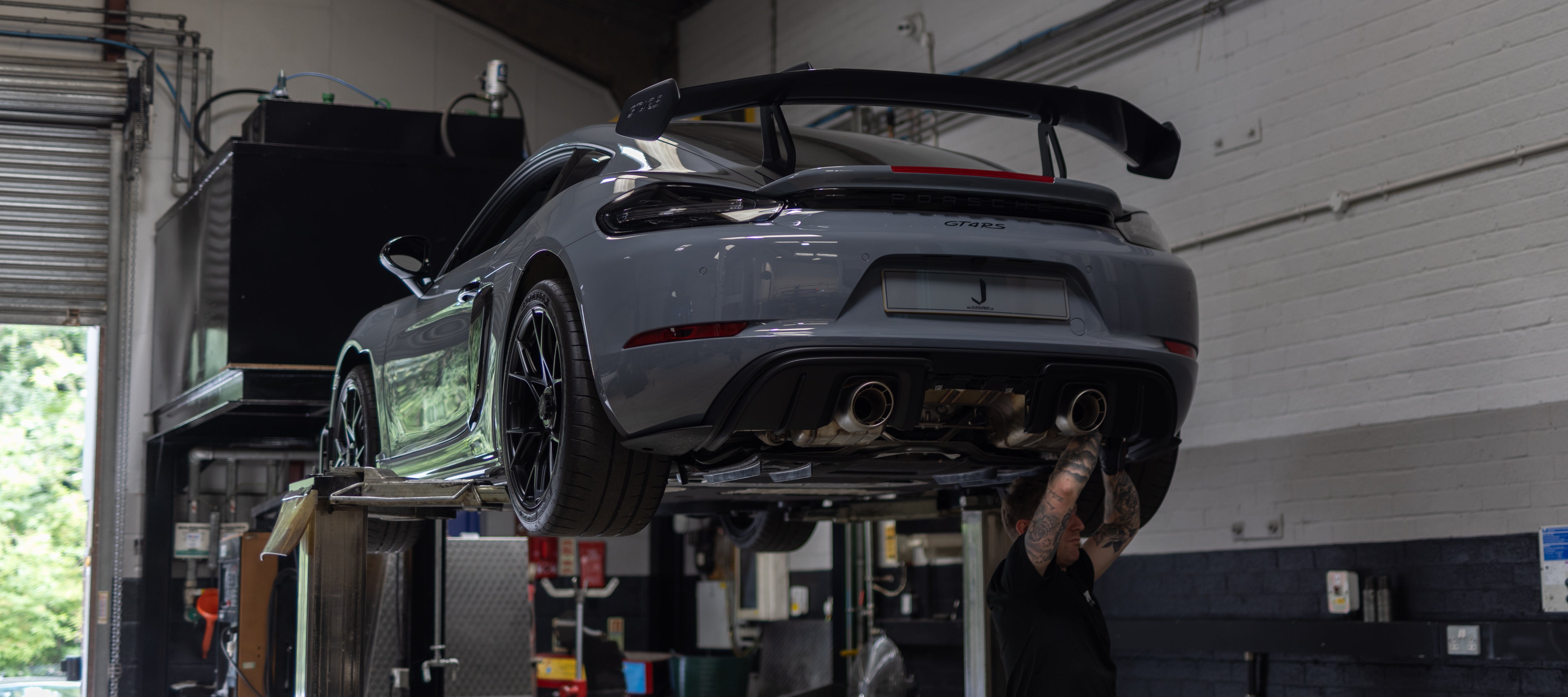 JCR 718 GT4 RS PROJECT - INSTALMENT 03 (EXHAUST DEVELOPMENT)
We've already reached week three of our JCR 718 GT4 RS updates, and this week we reveal some of the first details on the balance of our exhaust products. We've been working hard behind the scenes with help from our friends at Dynasty Partners and Ravi Suri (you can check out his car in our customer spotlight feature - here) both of which kindly loaned us their GT4 RS' earlier in the year to assist in the development of our Inconel Race Manifolds and Titanium Link Pipe exhaust products. 
Now that we have our own car, we can take our developments to a whole new level and finalise the testing and development prior to release.
So far, we've been able to trial various setups on our GT4RS, we have quickly made changes and alterations as we progress through the final stages. We've already have had four different exhaust configurations installed on the car across only a few weeks of ownership with intense testing throughout.
We began with a stock set-up; naturally, from there, we installed one of our non-silenced race pipes to the car; after this, it was time for the noisy stuff. Installing our development link pipes and manifolds allowed us to finalise designs and really get through a vital stage of development on the road and track. Finally, a set of our development manifolds paired without non-silenced race pipe, a super popular exhaust combination on the 'standard' 718 GT4 / Spyder model range, is currently on the car sitting right behind me.

Having access to the Dynasty Partners car and a close friend and customer's car allowed us to get ahead of the game with product development, power figures and a good chunk of baseline testing before going all out on our very own 718 GT4RS.
We're now super confident with where our products are at now, especially the previously mentioned development parts. With many miles put on our new car and various parts installed, we are currently in the stages of making our first production parts of the development components ready for you, our lovely customers, to purchase soon!
The aforementioned testing was completed over a mixture of road, track and runway time and miles. These testing stages are massive for us here at JCR as we don't like to cut any corners; all of our parts are extensively tested under various real world situations over an extended period.

Please take a look for yourself, and we hope you enjoy a lot more content coming through as the exhaust is being used on the track and on the road.

See you in the next one where we will be making some very exciting aesthetic updates; it's time to make this car stand out from the crowd.