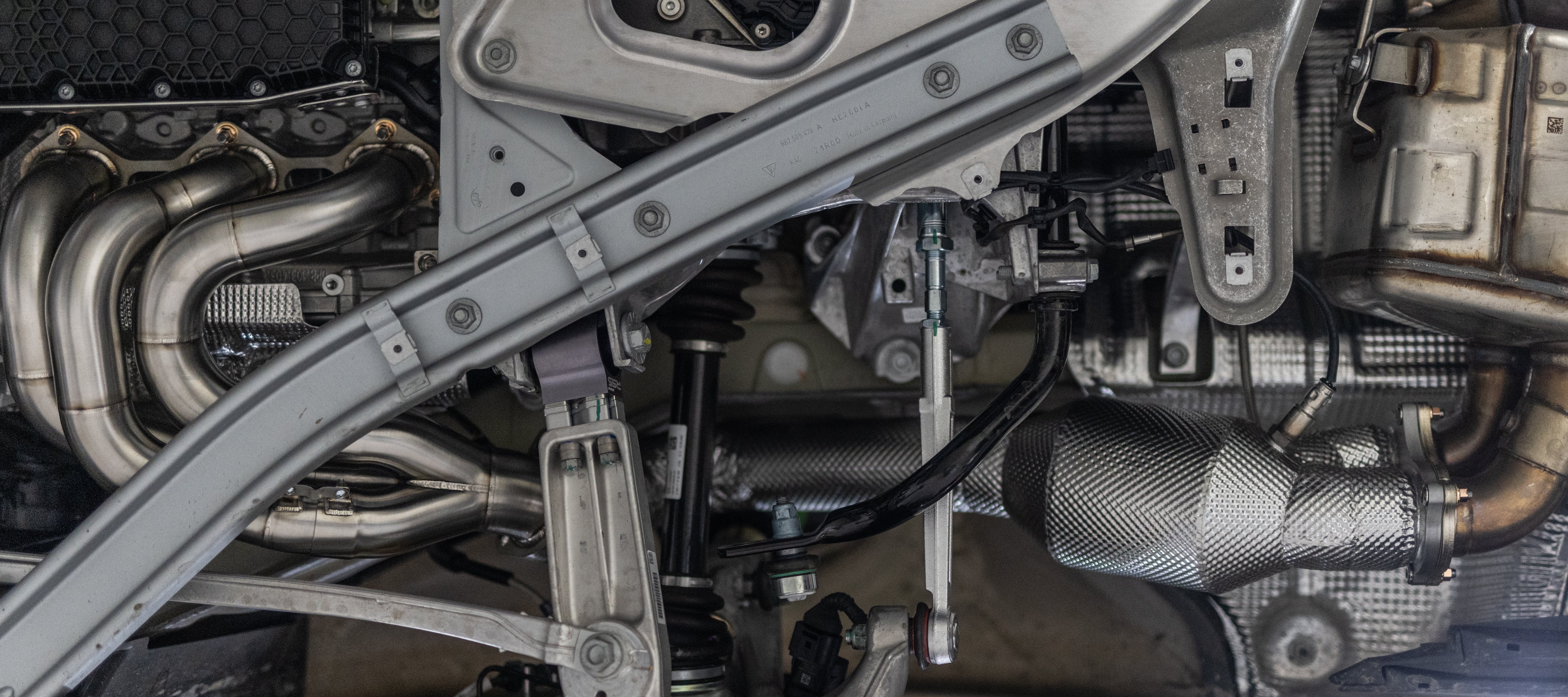 JCR 718 GT4 v2.0 PROJECT - INSTALMENT 03 (EXHAUST)
In this weeks update on the JCR 718 GT4 v2.0 build we're focussing on the exhaust system..
At JCR we're most well known for our super high quality exhaust systems. The 718 4.0L platform has a huge amount of performance potential, most of which is locked away within the factory exhaust so when it comes down to liberating some extra speed from this car the exhaust is an 'easy' win for lap time.
We opted to install the combination of our Inconel Race Manifolds and Inconel Link Pipes (Race Catted) onto the 718 GT4 and retain the factory rear silencer.
These parts are supplied with bespoke high quality titanium hardware and each part is a direct replacement for the OEM equivalent meaning that it's possible to create a package of parts which fits your requirements more easily.
The factory exhaust is extremely restrictive, heavy and almost certainly designed to hold back the 4.0L engine to ensure the 718 GT4 / Spyder models dont give their bigger brothers too much trouble around the track.
The factory manifolds are unequal length and manufactured from mild steel and feature extremely restrictive cats.
The JCR Inconel Race Manifolds in comparison are manufactured from Inconel 625 material, featuring equal primary lengths and without cats which allows us to optimise runner lengths within the space made available.
Although bigger is certainly not always better when it comes to creating the best possible exhaust system we have also increased the size of the collector from the hyper restrictive factory dimensions to an optimised size for this specific engine / RPM / power output. 
We tested a number of sizing options and found this to yield the best real world results, as proven by our v1.0 718 GT4 build where we still hold the record for the fastest accelerating car in the all important 100-200kph race. You can check out this thread on Rennlist
The factory link pipes are also a big restriction from factory. Again, small diameter pipe work with highlight restrictive emissions devices, in this case the OPF which is without monitoring on US models but with monitoring on all EU models.
As our car is an EU model our car also features the OPF monitoring plus an additional exhaust gas temperature sensor.
We're working right now to further develop this specific product offering to be a direct bolt on for all EU models meaning that the OPF can be deleted with no chance of CEL. More to come with this..
A very important feature with both the Inconel Link Pipes (Race Catted) and Titanium Link Pipes (Non Silenced) that we offer is all parts include Inconel heatshielding as standard. After testing parts with and without heatshielding on track it was blatantly obvious that this step was absolutely necessary from a safety and performance stand point and hence we will not supply any of our link pipes without the necessary heat protection applied.
This combination of exhaust parts will also allow us to achieve great gains in performance plus also pass noise regulations at some of the most strictly controlled circuits in the UK where we will also install our Titanium Silenced Tips to the factory rear silencer.
This combination of parts saves -10.95kg (24.14lbs) of weight but also liberates a big chunk of performance which we will yet again demonstrate with real world acceleration numbers / top speed deltas and lap time comparisons.
The final result is a neat package which to the untrained eye might well be mistaken as a stock exhaust whilst delivering a more interesting sound and a huge increase in performance.
By no means will this be the last and final system to be installed onto the car however this combination of manifolds and link pipes will serve as a great basis to continue work on a number of new development parts which will be offered as products in the near future.
Next weeks JCR 718 GT4 v2.0 instalment brings you a behind the scenes look at a number of bodywork and aero enhancements plus a sneak peek of some new product developments.