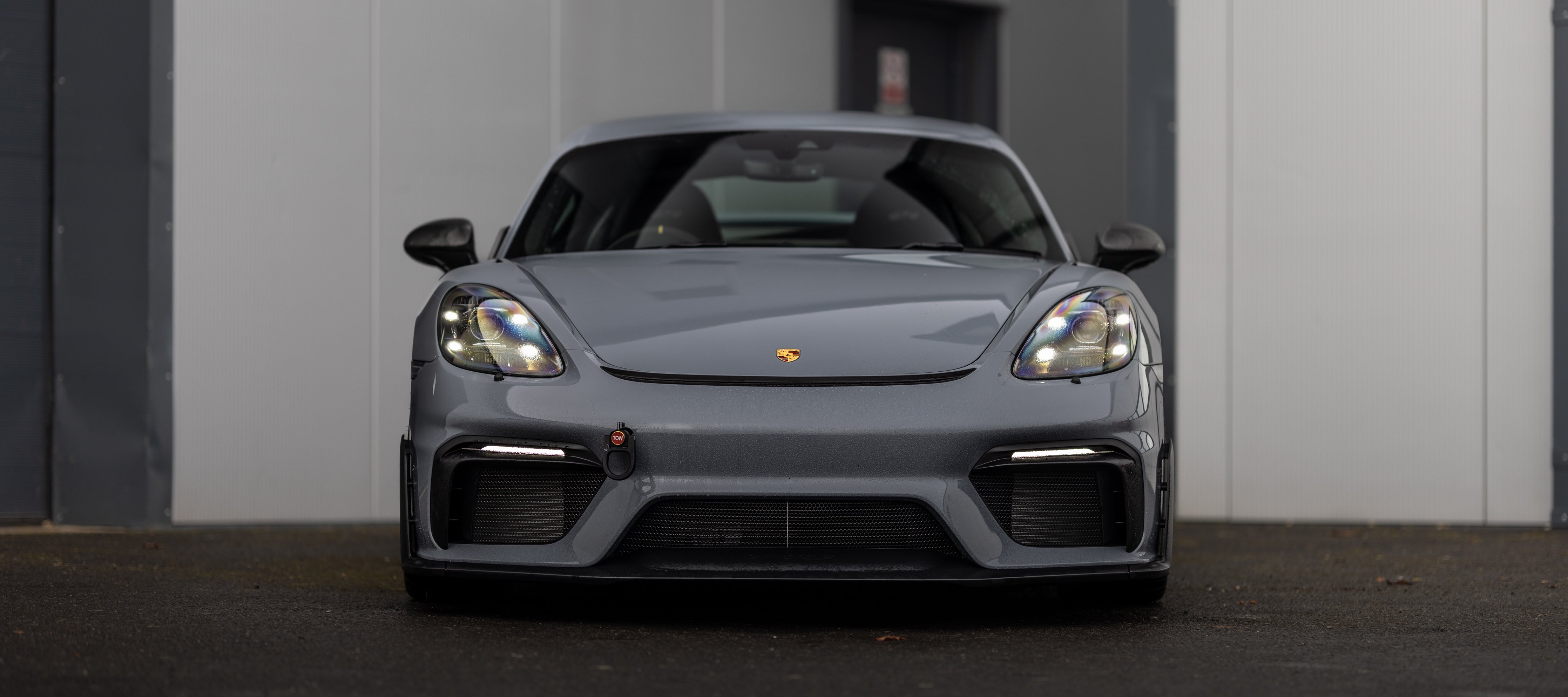 JCR 718 GT4 v2.0 PROJECT - INSTALMENT 08 (FIRST TRACK TEST & HOODIE LAUNCH)
Yesterday we took to the track in the 718 GT4 v2.0 for the first time. It felt fantastic to finally be out on the tarmac where this car belongs after eight weeks of intensive updates. We're super excited to show you the very nearly completed JCR 718 GT4 v2.0 build.
There's a lot of variables involved with a timed launch and sadly due to some delays there's still a few elements of the build which we weren't able to complete in time for our first track outing. When development and testing are involved it's imperative that all of the steps are followed to ensure that the completed products are perfect and up to our exacting standard.
We're looking forward to sharing more updates with you soon and hope to reveal the final details at the next track event. Nevertheless, we're super happy with how the car looks and performed with the majority of the updates implemented perfectly. We have the highest standards here at JCR and rushing isn't something that we're prepared to do.
In this final week of building our perfect GT4, the modifications made have been subtle, however, we think you'll love what we've achieved so far..
The car made it's final trip down to JZM Porsche before we put it through its paces. The reason for this was to install the carbon fibre front wheel arches from the 718 GT4RS onto our 718 GT4. Now, this comes with a few, as previously mentioned, subtle changes. To start with, you can now see that we have the characteristic cutaway behind the front wheel, not only does this give a more aggressive look but it also allows air pressure to bleed from the wheel arch area, helping to reduce drag.
In addition to this cutaway the 718 GT4 RS arch vents above the front wheel too. On the OEM GT4 RS this vent also features two small air guides however we've made a little change here and removed the factory vent completely which resulted in a little less front end lift at high speed, further aiding front end downforce on track.
We think this subtle change looks the part, but more importantly it works and resulted direct, albeit small, performance benefit when lapping the car on circuit.
Now, as we've said before, we had ambitious deadlines for this car release. For the most part, everything has gone perfectly to plan. However, there is one change that we aren't going to be able to show you just yet.
As you may have seen in last weeks instalment of our 718 GT4 v2.0 build, we were test fitting a pair of 3D printed wing uprights. This new product will allow 718 GT4 owners to fit the OEM 718 GT4 RS wing to their cars, as well as their also being an option for 718 GT4 RS owners to install our Billet Aluminium uprights giving their standard 718 GT4 RS a more aggressive and efficient rear wing set up.
With this being a new product for JCR as well as being such an integral part of the performance of the car, it had to be perfect. Our 3D parts that we shared in last weeks blog worked great however we just weren't able to get the billet parts machined in time for the first event hence only running with the stock rear wing at our first track test.
We did intend to complete a back to back test the stock GT4 wing against the GT4 RS wing with the JCR wing uprights installed however we only managed to partially complete that test. The information gathered is still valuable however and learning how effective the 718 GT4 RS front end and underfloor aero components are and how they effect the balance and in which section of the corner was great to understand.
What was reasonably unsurprising is that the factory 718 GT4 rear wing at max angle isn't too far out of range when combined with the 718 GT4 RS front aero (in it's low downforce setting) but we feel the benefit will come with a more efficient rear wing installed meaning that the aero balance can be optimised along with a reduction in drag resulting in higher straight line speed. You'll be seeing a lot more of the rear wing uprights very soon and we will back to back test on track at our next event to prove this theory.
It's our first track day of the year, so of course, it rained. We didn't allow this dampen our spirits, though. After reviewing the forecast every day for the week leading up to the day, we made the decision to change tyres. 
Having the Michelin Pilot Sport Cup 2R tyres installed to the car was the only option for us when creating our perfect, performance orientated 718 GT4. But, with less than optimal and changeable conditions on the horizon we swapped these out for a fresh set of Michelin Pilot Sport Cup 2 tyres.
Having used this tyre on all of our previous JCR cars, it was the only option for a potentially damp track. The tyres performed amazingly from lower temperatures and clear water unbelievably well for a road legal tyre without compromising too much on track performance if the track dries up.
First impressions of the car were extremely good. The aero balance worked nicely. Again, the last thing a 718 GT4 or GT4 RS needs is a TON more rear downforce, if anything the balance needs moving forward and running the factory 718 GT4 rear wing along with the 718 GT4 RS front and underfloor aero again proved this with a platform which is easier to rotate and importantly significantly less understeer mid to exit which will ultimately result in faster lap times.
There's no doubt that with a rear wing producing more downforce in a more efficient way along with optimised front aero will result in even more performance but this is why we test. There's simply no replacement for getting out on track and gathering real world data.
We will further develop the car to ensure the aero balance is friendly, predicable but importantly creates a platform which is conducive to creating faster lap times.
FULL 718 GT4 v2.0 SPEC (ON THE DAY)
INCONEL RACE MANIFOLDS
INCONEL LINK PIPES (RACE CATS)
TITANIUM SILENCED TIPS
BILLET ALUMINIUM SHIFT PADDLES (SPEED YELLOW)
TITANIUM FOLDING TOW HOOK (BLACK)
FIXED BUCKET SEAT CUSHION COVERS (CLASSIC PEPITA)
MANTHEY RACING SUSPENSION KIT - PLEASE ENQUIRE
SURFACE TRANSFORMS BRAKE KIT - PLEASE ENQUIRE
GT4RS AERO PARTS - PLEASE ENQUIRE
GT4RS CENTRE LOCK CONVERSION - PLEASE ENQUIRE
GT4RS MAGNESIUM WHEELS - PLEASE ENQUIRE
As a bonus, we're excited to launch a one drop exclusive hoodie in celebration of the JCR 718 GT4 v2.0 project. Our 'TESTED ON TRACK' hoodie is available to buy now. This is a limited edition item so once they're gone, they're gone.
We just wanted to thank you for following our JCR 718 GT4 v2.0 build so far, the response from the weekly updates and content has been great and we're so happy that you've all enjoyed following this build so far. As previously mentioned we still have a few more updates which were delayed but fear not, we'll be sharing it all with you in the coming weeks.
We can't wait to get stuck into another JCR project with you all again soon. In the meantime, we're so happy that the 2023 track season has finally kicked off for us and we can't wait to share even more exciting track content throughout the year.
If you want to see more behind the scenes content and updates into what we're up to here at JCR subscribe to our newsletter where you will get a monthly newsletter with exclusives and more.
We are also very active with daily fresh content on Instagram, Facebook and TikTok!!
Thanks again for the support on the JCR 718 GT4 v2.0 build, see you at the track again soon!
JC 
JCR 718 GT4 v2.0 PROJECT - INSTALMENT 07 (CARBON AERO, LOGIC PPS)