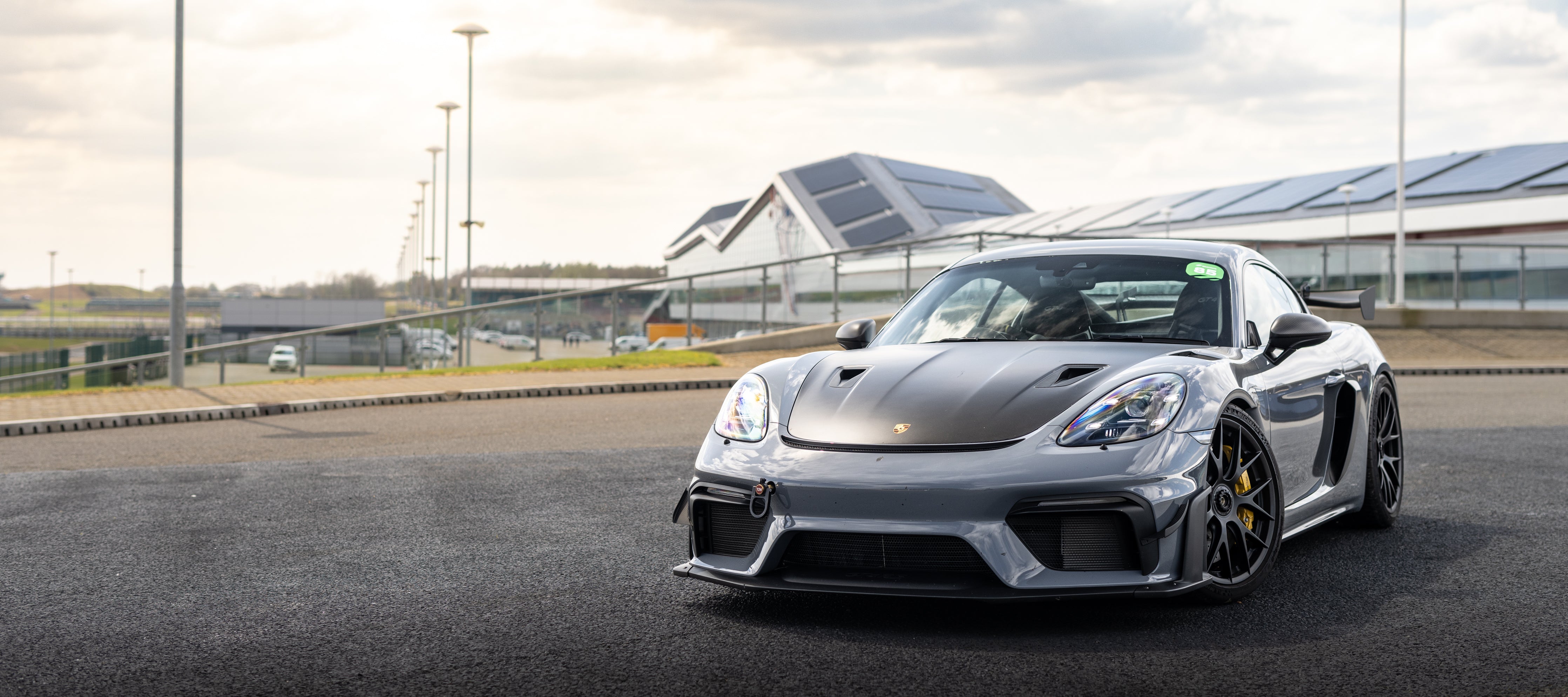 JCR 718 GT4 v2.0 PROJECT - INSTALMENT 09 (NEW LOOK AERO & CARBON)
As promised we're back with a few more updates on the JCR 718 GT4 v2.0 project after not quite meeting our expected launch date due to some delays.
If you've not already, go ahead and check out our blog section where you can find all eight instalments and catch up with how the build is progressing.
We have been working hard over the past few weeks to get a few more of our updates and new products installed on the car in preparation for some more track testing.
Most recently we headed to Silverstone's GP Circuit for one of the two annual BRDC Track Days which took place 18th April.
After what has been a very wet spring so far here in the UK we were lucky to be blessed with some dry track testing with the car in its current form. Check out the latest updates installed to the car since our last instalment.
718 CLUBSPORT REAR WING KIT
To gather a solid chunk of baseline information prior to installing the JCR Carbon Fibre Rear wing we installed the Porsche Motorsport 718 GT4 Clubsport Rear Wing Kit which we have great knowledge of since this is the wing we ran on the original JCR 718 GT4.
The wing performed as expected, improved balance and greater level of adjustment versus the OEM rear wing providing increased downforce and rear stability, particularly noticeable in the high speed sections of the Silverstone GP Circuit.
You can purchase the 718 Clubsport Wing Kit HERE
718 GT4 RS CLUBSPORT FRONT SPLITTERS & DIVE PLANES
We also installed some 718 GT4 RS Clubsport Aero Parts during the day which allowed us to gather valuable information on their effectiveness. Not only do these parts add great visual impact with a much more aggressive front end look but they worked extremely well to aid front end downforce.
We still ran the rear wing at the lowest downforce setting but finally it was great to feel the front end of a 718 GT4 working on track in the high speed corners. This gives us a great baseline to work from and aids in the development of our own aero package which is currently in the works.
We will be offering these parts for sale via the JCR shop, look out for a more in depth release coming soon.
718 GT4 RS CARBON FIBRE BONNET
We also purchased a 718 GT4 RS bonnet, finished in exposed Carbon Fibre as found on the Weissach Pack equipped cars. We then went a step further and had the bonnet satin lacquered to create a more subtle finish which contrasts beautifully with all other exterior carbon fibre components.
Not only does this look fantastic but it also reduces weight and in conjunction with the factory 718 GT4 RS brake ducting allows us to reduce front disc temperatures which is never a bad thing when running the car on track for extended periods of time.
SATIN CARBON FIBRE
We also took the time to have all other Carbon Fibre exterior elements painted with satin clear lacquer to suit, wing mirrors, side blades and window triangles all got the treatment and give a striking appearance to the car overall
718 GT4 RS INTERIOR
A rare non performance related change was the addition of the factory 718 GT4 RS rear strut covers which drastically improve the look and drastically reduce glare in the rear view mirror when sun is shining into the cabin at the rear.
A subtle yet effective modification which is a quick and simple fit for all 718 GT4 owners
Overall the car performed brilliantly on the day. We're still dialling things in and we're using the Michelin Cup2 tyre to complete all of this work. Once complete we will transition over to the Michelin Cup2R tyre and start setting some lap times.
We have a couple more track events planned in prior to a European trip where we will visit Spa Francorchamps for two days and then on to Nurburgring for the Manthey Track Day where we will run the car in it's final specification.
In the mean time we continue work on the JCR rear wing project where we have also made some great progress..
Final pre production wing uprights are complete and now we head into build with the first production sets. Don't worry, production sets won't be orange!
More to share on this soon..
We look forward to taking the car back to Donington Park GP Circuit next week where we will be changing up the exhaust set up as this day is without any noise restrictions.
Expect an update in the mean time featuring some pretty epic new product developments hitting the car soon.
JC