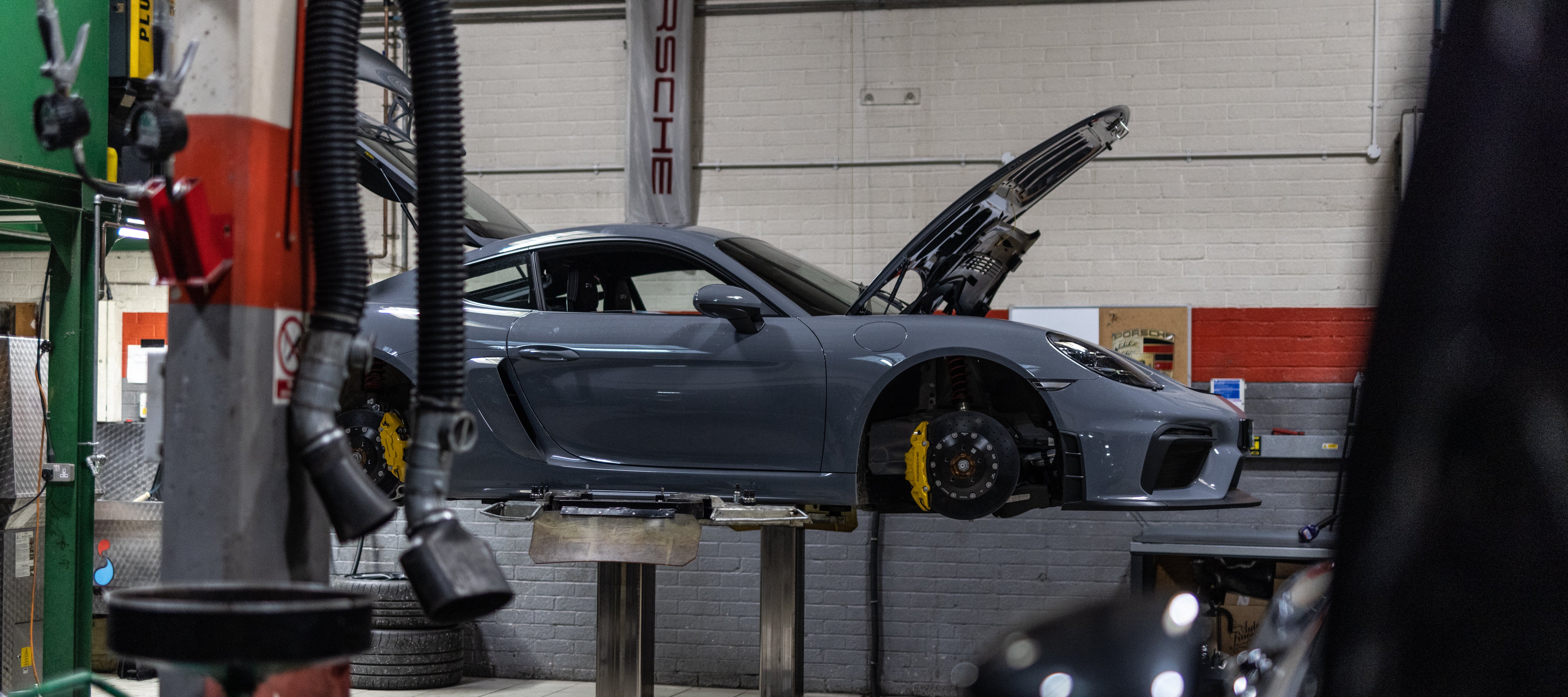 JCR 718 GT4 v2.0 PROJECT - INSTALMENT 02 (SUSPENSION & BRAKES)
Our second instalment of the JCR 718 GT4 v2.0 project consists of enhancements to two key areas, suspension and brakes.
SUSPENSION
On the previous JCR 718 GT4 build we ran the Ohlins TTX suspension kit with great success. After running the Manthey Racing KW units on our 991 GT2RS MR and learning our way around that option we opted to go with the Manthey Racing offering on our 718 GT4 v2.0 build project.
We also took the opportunity to swap out some key components in the suspension to allow for greater levels of adjustment such that we could achieve the necessary geo settings along with removing all rubber mounts in favour of rose jointed parts.
The remote reservoirs were placed in a convenient location to allow for quick and easy damper adjustments at the track.
We can't wait to get the car out on the road and start dialling in the suspension settings and learning what this kit can offer.
BRAKES
For the first phase of modifications to the brakes we opted for a simple package of Manthey Racing upgraded Pads and Lines along with a fresh bleed with Castrol SRF fluid.
First up was the pad change. The Manthey Racing PCCB pad is a very effective upgrade for use with the factory PCCB disc, extending life plus improving performance under higher temperature conditions.
Brake lines are not essential on this platform however every little helps, we opted for the Manthey Racing parts for OEM+ quality of fitment.
Last up was a full bleed plus whilst replacing the fluid for Castrol SRF. In our experience, the best that money can buy when it comes to brake fluid for use on the road & track.
We plan to upgrade the brake system further down the line and we're currently working on a range of more in depth upgrades for the factory PCCB disc assembly to save weight, aid cooling and also add rigidity. Watch this space.
The finishing touch was to get the car onto the Manthey Racing set up equipment and apply geo settings which worked very well for us from v1.0 build
Our friends at JZM are doing an amazing job with the build as always. Head over to their website to check out some of their current stock.
Stay tuned to our JCR 718 GT4 v2.0 Project blog as next weeks instalment (Sunday 12th February) might just be the most exciting to date...