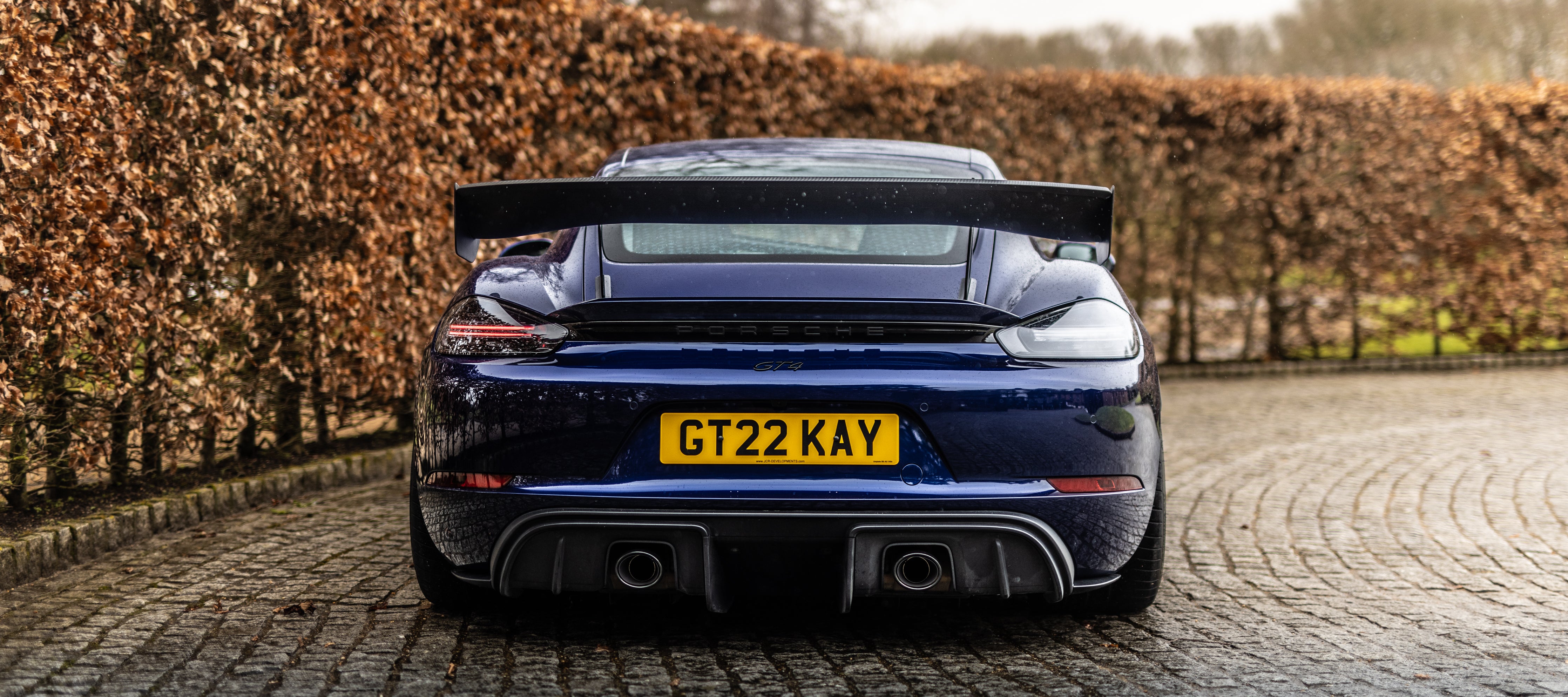 MARLEY KAY'S 718 GT4 BUILD UPDATE
We're back with another update on Marley Kay's stunning Gentian blue 718 GT4.
For those who have read our Customer Spotlight blogs in the past you'll recognise Marley's 718 GT4 along with his Lamborghini STO which is also installed with one of our Inconel Race Pipes (Non Silenced).
Marley has been keeping a close eye on our JCR 718 GT4 v2.0 project updates and contacted us looking to replicate a bunch of modifications onto his very own GT4, something we're very excited to help him achieve. If you've not already seen what we've done with our 718 GT4 then head over to our blog section of the website to read all about it.
Before this most recent wave of modifications, Marley already had a bunch of our parts fitted to his car, including a Titanium Non Silenced Valved Race Pipe paired with a set of our Titanium Megaphone tips. This was one of the most important modifications for him as upon collecting his brand new 718 GT4, the first thing he noticed was the lack of drama from the OEM exhaust.
Once the exhaust was taken care of it was time for the next modifications which focused more on the aesthetics of the car, pairing a custom painted Speed Yellow Titanium Folding Tow Hook with a set of our Billet Aluminium Shift Paddles. These parts perfectly complimented the factory fitted yellow stitch of the interior and the yellow carbon ceramic brakes.
One of the biggest exterior modifications is the JCR supplied HRE R101LW finished in super silver. Marley opted to swap out the factory fitted Dunlop tyres with some Michelin Pilot Sport Cup2 tyres. Now the car is stuck to the road it's time to make sure it handles and stops properly with the help of Manthey racing toe links, brake pads and braided lines along with a JCR X JZM fast road geo setup.
Marley ran this combination of parts on the car over the course of 6 months, testing the parts on multiple track days and over many road miles. However, with the 2023 track season round the corner, it was time to make some changes ...
Just like Marley's first load of modifications the first thing to change was the exhaust; we took it off. Don't panic though. After replacing the JCR Titanium Non Silenced Valved Race Pipe for the OEM rear silencer we turned our heads to the manifolds and link pipes. It's here where we installed out Inconel Race Manifolds along with a set of Inconel Link Pipes (Race Catted). In doing so, we were able to create a completely different tone to the exhaust whilst also providing a power increase of around 30hp as well as a significant torque increase from the OEM exhaust setup.
Next, it was time for more of those aesthetic upgrades, helping to make this car even more unique. Marley opted for our Fixed Bucket Seat Cushion Covers (Classic Pepita) as well as having his lights tinted with a yellow film for that retro look. We know this one will split opinions but personally, we love how it looks.
After applying a JCR x JZM Geo Setup on to the car, Marley decided it was time to upgrade the suspension even further. Going from the OEM suspension set up over to the Ohlins TTX Suspension made a huge difference to the car, not only to how aggressive we can now go on the ride height, but also in the capability of fine tuning the damper settings at the track to find a set up which fully suits Marley's driving style.
Alongside the upgraded suspension, we also installed a set of Surface Transform Carbon Ceramic brakes paired with Pagid RSC-1 pads in order to gain the ultimate stopping potential from this now improved package.
Finally it's time to fit the aero modifications. Marley opted for a product we love and have used on a previous car of our own; the Porsche Motorsport 718 GT4 Clubsport Wing Kit. It looks amazing to start with, as well as being used on the GT4 race car, we noticed significant downforce improvements when swapping from the OEM wing. The Clubsport wing is also lighter and offers fine range of adjustment to help dial in the balance of the car even further.
In addition to the Clubsport Wing Kit, Marley also had the OEM underfloor aero parts from the GT4 RS fitted to his car along with the rear diffuser spats.
We can't wait for Marley to run his car on track and really feel the benefit that all of these modifications will bring.
It's always flattering when we have customers returning to us for further modifications and also great to see cars with JCR upgrades based off of our very own JCR project cars.
If you want to find out more about the products on Marley's car follow the links below;

INCONEL RACE MANIFOLDS
INCONEL LINK PIPES (RACE CATS)
BILLET ALUMINIUM SHIFT PADDLES
TITANIUM FOLDING TOW HOOK
FIXED BUCKET SEAT CUSHION COVERS (CLASSIC PEPITA)
OHLINS TTX SUSPENSION
GT4 CLUBSPORT REAR WING KIT
GT4RS AERO PARTS - PLEASE ENQUIRE

If have any further enquiries please don't hesitate to get in touch.
JC