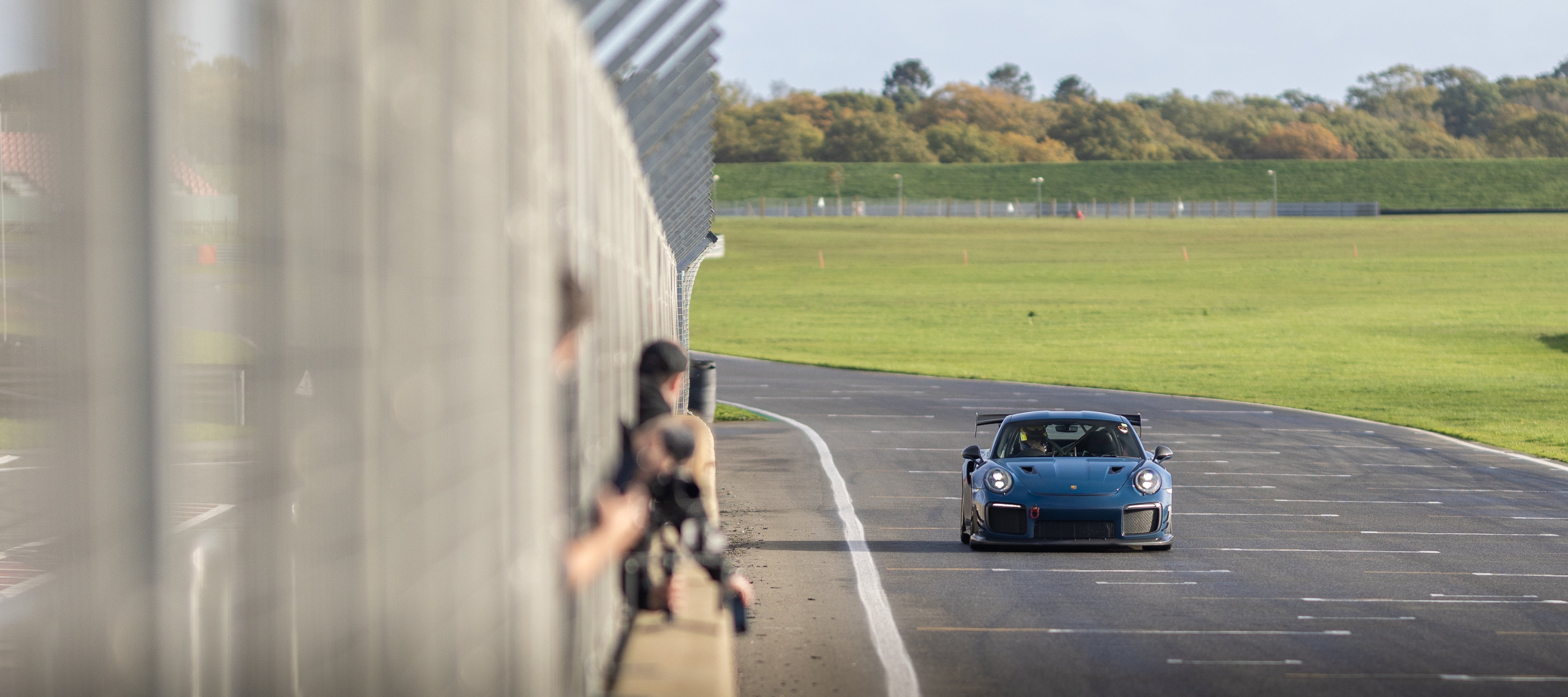 SNETTERTON 300 ROAD CAR LAP RECORD
On Tuesday 8th November 2022 we attended the RMA Snetterton 300 track day with the goal of getting in a lap to beat the current road car lap record of a 2:00.28 held by the Radical RXC.
After a very wet and limited track time day the day before at Silverstone we were lucky to have the weather at Snetterton on our side. After a damp morning the sun came out and although the track was very 'green' we managed to get in a good amount of track time and recorded a pretty nice lap time too!
Car spec on the day was as follows:
MANTHEY RACING PERFORMANCE KIT
MICHELIN CUP2R TYRES
CARBON FIBRE GT2RS CLUBSPORT REAR BUMPER 
JCR INCONEL (GT2RS CLUBSPORT) RACE PIPE (CATTED / SILENCED)
GUNTHERWERKS CARBON FIBRE FRONT SPLITTER
GUNTHERWERKS CARBON FIBRE SIDE SKIRTS
JCR SEAT CUSHION COVERS (CLASSIC PEPITA - FIXED)
JCR TITANIUM FOLDING TOW HOOK (RED)
SURFACE TRANSFORMS PCCB REPLACEMENT BRAKE KIT
PAGID RSC1 BRAKE PADS
On a fairly heavily used set of tyres we managed to get a clear lap in the afternoon session which resulted in our fastest lap time of 1:56.42 - Setting the fastest recorded road car lap and beating the current fastest time by a pretty reasonable 3.86 seconds
Take a look at the lap for yourself;
Although conditions weren't perfect due to the rain early in the morning this lap time does again demonstrate just how capable this platform really is and how our set up and products perform in the real world.
Without doubt there is more time on the table with better conditions, a brand new set of tyres and less fuel however this run is representative of what's possible without any real special preparations which if anything makes the time all the more impressive.
With more favourable conditions and brand new tyres I believe a 1:54.XX is possible.. I guess we can go back, if we need to ;)
Driver; Jonny Cocker
We have no plans to attend any more track events in the 2022 season at the moment, with the weather drawing in and conditions becoming more and more challenging.
In the mean time we're busy planning away exciting things for the 2023 season and we can't wait to share them with you soon.
JC