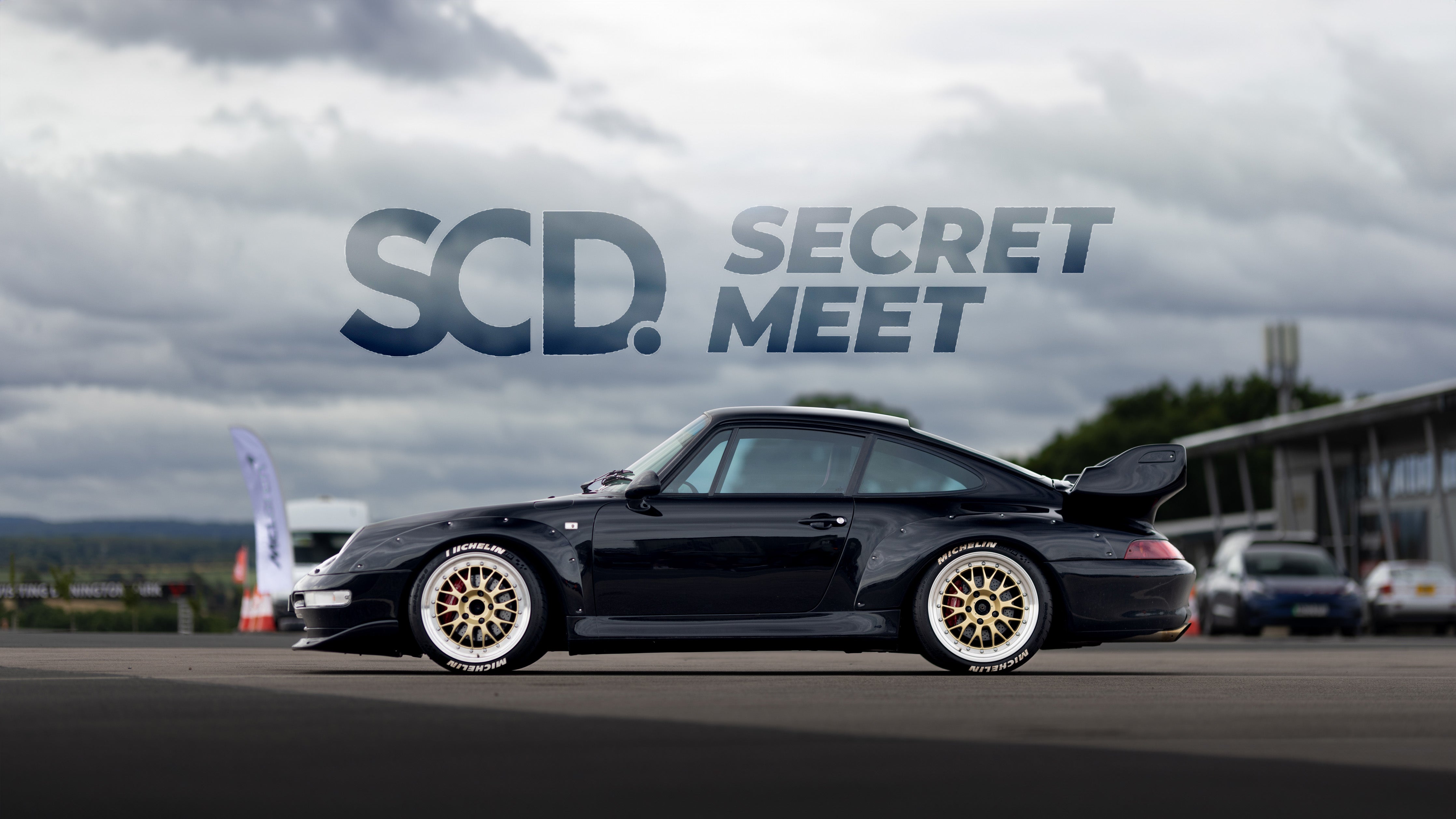 SUPERCAR DRIVER SECRET MEET
What a day.
Every year the Supercar driver club hold a (not-so-secret) secret meet at Donington Park race circuit, which brings together the finest collectors, racers, brands, dealers and manufacturers for a celebration of all things motoring.
We have had the honour of attending for the last few years, however, this year we didn't just attend. This year we were accepted onto the line-up to take part in their new Shootout which gives an opportunity to a select few to compete against one another around one lap of the brilliant Donington Park GP Circuit.
The Shoot-out is an all-new feature for the SCD Secret Meet. With a 20-car grid (consisting mostly of racing cars) in line for the shootout, the guys at SCD fancied throwing a road car into the mix. Now, what better road car than the brand-new JCR 718 GT4RS? Lining up alongside an Aston Martin Valkyrie AMR Pro, a Honda LMP1 car, plus a mix of current GT3 race cars and Oli Webb in an adapted Rodin F1 car, our little GT4 RS looked right at home. Kind of.
This was the perfect opportunity to have our first track time in our new GT4 RS and we weren't disappointed.
The set-up on the GT4RS on the day;
JCR INCONEL RACE MANIFOLDS (PRE PRODUCTION SPEC)
JCR TITANIUM LINK PIPES - RACE CATTED (PRE PRODUCTION SPEC)
JCR TITANIUM RACE PIPE - NON SILENCED
JCR TITANIUM WEISSACH TIPS
JCR BILLET SHIFT PADDLES - SPEED YELLOW
JCR SEAT CUSHION COVERS - CLASSIC PEPITA
OEM 718 GT4 RS MANGNESIUM WHEELS
JCR x JZM TRACK DAY GEO
MANTHEY RACING REAR TOE LINKS
SURFACE TRANSFORMS IRON REPLACEMENT CERAMIC DISCS
PAGID RSC-1 BRAKE PADS
CASTROL SRF BRAKE FLUID
MANTHEY RACING BRAKE LINES
For our first track time in the car, we wanted to understand what the car is capable of on the stock suspension with a JCR Track Day Geo. 
For the exhaust, well, it was a non-silenced day. So we did the usual JCR thing and made a lot of noise! Aside from just being noisy, this gave us the perfect opportunity to test our development titanium link pipes and inconel race manifolds.
As well as a massive increase in sound, we also noticed a significant increase in power and torque over the factory parts. We installed one of our Titanium Race Pipes (Non-Silenced) to complement our development setup. This rear fitted to the car allowed us to run a complete JCR system, making plenty of noise and providing that signature 'RSR' sound. 
Regarding rubber, we started the day with the intention of completing the shoot-out on a fresh set of Cup 2R tires. However, as you're about to discover, that didn't quite go to plan.
Sadly the lovely British weather proved challenging throughout the day, with a massive downpour taking place seconds into the first car's lap, the previously mentioned Rodin F1 car. The red flag was then shown, and the session stopped. Half an hour passed while the skies emptied their clouds onto the track. However, the torrential rain definitely didn't stop play for us, as we were the first car to be sent out as the guinea pig onto a sodden track to complete our lap.
Finding the damp patches on an out-lap is only so helpful when there's not a river running across the circuit. The car felt fantastic despite a little twitch down through the famous Craner Curves. With the circuit so wet, we couldn't push as hard as we would've wanted; we gave it our best shot though. With some more (hopefully) dry weather running in a few weeks, we should be able to fully dial the suspension setup on the factory springs and dampers.
Everyone at JCR has a genuine love for all things cars and motorsport, so being in the company of some of the most decorated racing cars and some fantastic road cars was a real treat for everyone involved. Here are just a few of our favourites.
You can re-watch the whole day, including the shoot-out, which was live streamed on the Supercar driver YouTube channel.
A huge thank you goes out to the whole SCD team for having us along and for all of you who came over to say hi to us during the day, some familiar faces and some new ones too.
We'll be back at the track VERY soon for some more JCR GT4RS track time.
JC