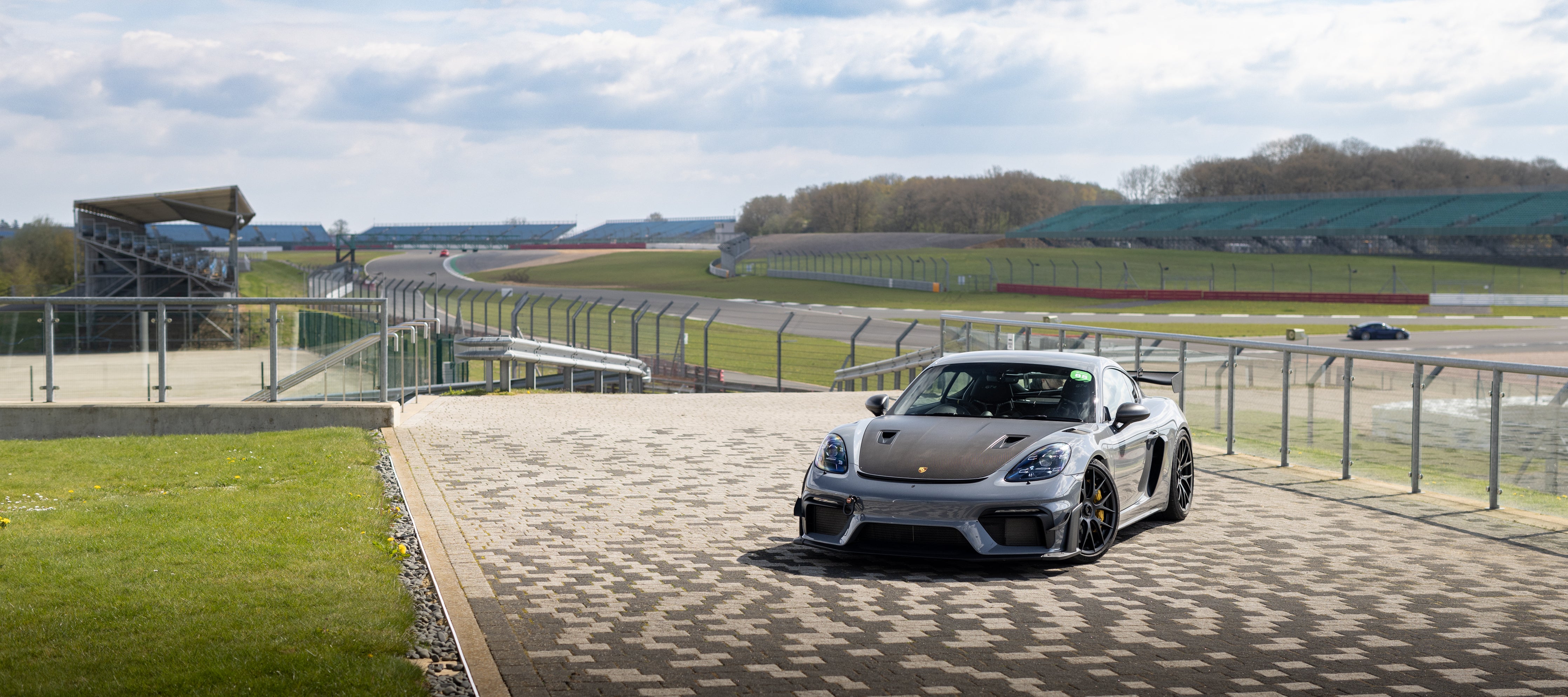 Blue skies and a dry track for the first BRDC Track Day of the year. After what has been a very wet spring so far here in the UK I think we can safely say we were very lucky to finally get in some dry laps with the new JCR 718 GT4 v2.0.
As a Member of the British Racing Driver's Club it is always such an honour to be able to attend their exclusive track days at Silverstone Circuit and be able to take along some guests to enjoy the day with us too. 
It was a fantastic day all in all, there are always some insane cars at these days which makes it always worth garage hopping to see.
We invited along a few friends of ours to enjoy the day with us including our friends at Dynasty Partners with their 718 GT4 RS, EAVSY in his 991.1 GT3 RS, 10KAYGARAGE in his modified JCR 718 GT4 & MR JCW in his 991.2 GT3 RS. It's safe to say we had the best sounding garage in the pit lane!
Our first proper dry run in the 718 GT4 v2.0 on track was all about dialling in the new components and finding the appropriate balance. This day was all about gathering data and giving ourselves a direction to head in to ensure that we make the car faster every time we're out.
We will be sharing a much more in depth blog covering all of the latest modifications but for now take a look at the pictures and see what you can spot has changed since the last 718 GT4 v2.0 build update.
This day was also a brilliant opportunity to take out our Cayenne GT on track for the first time and put some serious heavy miles on our new development exhaust which has been installed recently.
The car performed incredibly well, as you would expect. Our exhaust adding some serious and measurable performance gains along with a fantastic sound and weight reduction versus the OEM system.
Look out for the next update on this build coming soon.
Our friend and fellow BRDC member Archie Hamilton also came along on the day and recorded a couple of fun videos, the first of which you can check out below where we discuss the exhaust on the JCR Cayenne Turbo GT
All in all it was a great day and we look forward to the next BRDC Track day later in the year.
Next stop Donington Park GP circuit where things are about to get LOUD.
JC