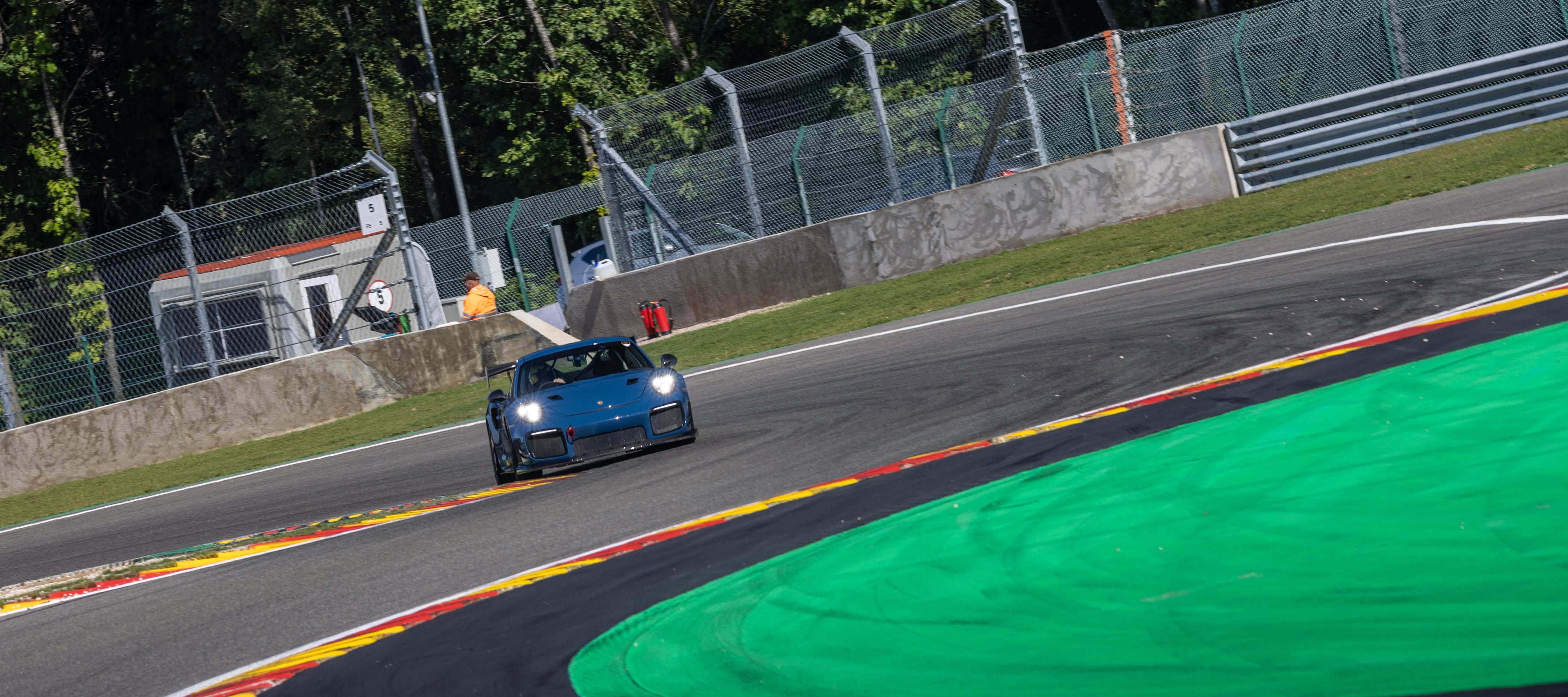 JCR GT2RS MR SPA-FRANCORCHAMPS (2:27.00)
Is there a more perfect way to round up the summer track day season than a double header at the prestigious Spa-Francorchamps circuit with RMA.. We think not.
Day one was sunny and warm, beautiful blue skies helped make the JCR GT2RS MR Neptune Blue really stand out within the amazing scenery of Spa Francorchamps.
Spa is one of my very favourite circuits, a mix of super high speed corners and long straights mixed with slow speed and super technical sections. This combination makes for a challenge unlike many circuits across the globe.
Our main objective of the trip was to put the latest JCR modifications to the test. For the week or so prior to the event we have been working hard to integrate the GT2RS Clubsport rear bumper onto our road going GT2RS and once installed we were able to then get on to developing out our first iteration of the JCR Inconel Race Pipe, suitable for GT2RS Clubsport cars.
There will be various versions of our Inconel Race Pipe suitable for the 991.2 GT2RS Clubsport and 935 Race Cars to accommodate for each customers specific requirements. More information to follow.
We also wanted to make sure that this motorsport bumper would be finished beautifully enough to match up with the overall aesthetic of the JCR GT2RS MR so once all of the trial fitting and brackets were fabricated we took the bumper to Logic VPC to have the same special mix of Neptune Blue paint applied and the factory carbon fibre brought up to a high gloss finish. We couldn't be happier with the look now!
As with all new products we like to test on the road and track so a 1500 mile road trip with two days of hard track running throw into the mix seemed like the perfect opportunity to get some miles and run time into these new parts.
We have designed this exhaust to be quick and easy to change out sections to meet specific noise requirements for circuits across the globe. We will be offering the system with cat deletes or 100cel race cats and with non silenced sections or re-packable silencers. Each option is modular with one another and delivers not only a fantastic sound but an improvement in throttle response and outright straight line speed.
We're expecting to complete testing in the coming weeks and will then be able to offer these new products for sale via the website.
Whilst we were testing on track we did of course try to engineer some space to allow for a fast lap to attempt to better the Manthey Racing lap time set at Spa of a 2:31.0. Running around at that kind of pace on a track day means traffic is inevitable so we weren't able to get a completely clear lap however did manage to improve the Manthey lap time by a fairly sizeable 4.1 seconds and recorded a 2:26.90 lap time.
With some further analysis, comparing to other laps we established that the traffic on the 2:26.90 lap cost us approximately 1.5 seconds and with the lap being completed on the 7th run on the tyres we also expect another 1.5 seconds of improvement with perfect new tyre / no traffic conditions. Theoretical best lap time with the current set up is most probably a high 2:23. We can't wait to get back to Spa and try to realise the full potential of this incredible car!
Unfortunately the Porsche Track Precision app failed on this run so we only have GoPro footage. No claims this time for fastest laps this time around but enjoy some footage of the lap we did get until next time.
We also installed a set of custom JCR Seat Cushion Covers in this beautiful OEM cloth, found previously in early 911 models. A perfect compliment to Neptune Blue
CAR SET UP:
MANTHEY RACING PERFORMANCE KIT
MICHELIN CUP2R TYRES
JCR DEVELOPMENT INCONEL RACE PIPE (GT2RS CLUBSPORT)
PORSCHE MOTORSPORT GT2RS CLUBSPORT REAR BUMPER
GUNTHERWERKS CARBON FIBRE FRONT SPLITTER
GUNTHERWERKS CARBON FIBRE SIDE SKIRTS
JCR SEAT CUSHION COVERS (BLUE PLAID)
JCR TITANIUM FOLDING TOW HOOK (RED)
SURFACE TRANSFORMS PCCB REPLACEMENT BRAKE KIT
PAGID RSC1 BRAKE PADS 
Next up we have a fairly busy next few months with some fun things planned and not just more track days. We'll be attending JZM's Cars & Coffee morning on 25th September and we'll also be at Bicester Heritage for their final Sunday Scramble of the year on Sunday 9th October so we hope to see some of you there.
We'll also be taking part in the Snetterton round of the UK Time Attack series in the JCR GT2RS MR to demonstrate just what this road legal car is capable of against some pretty crazy track only machinery!
A big thanks goes to RMA for another great few days at the track and we look forward to being back at Spa in 2023.
JC