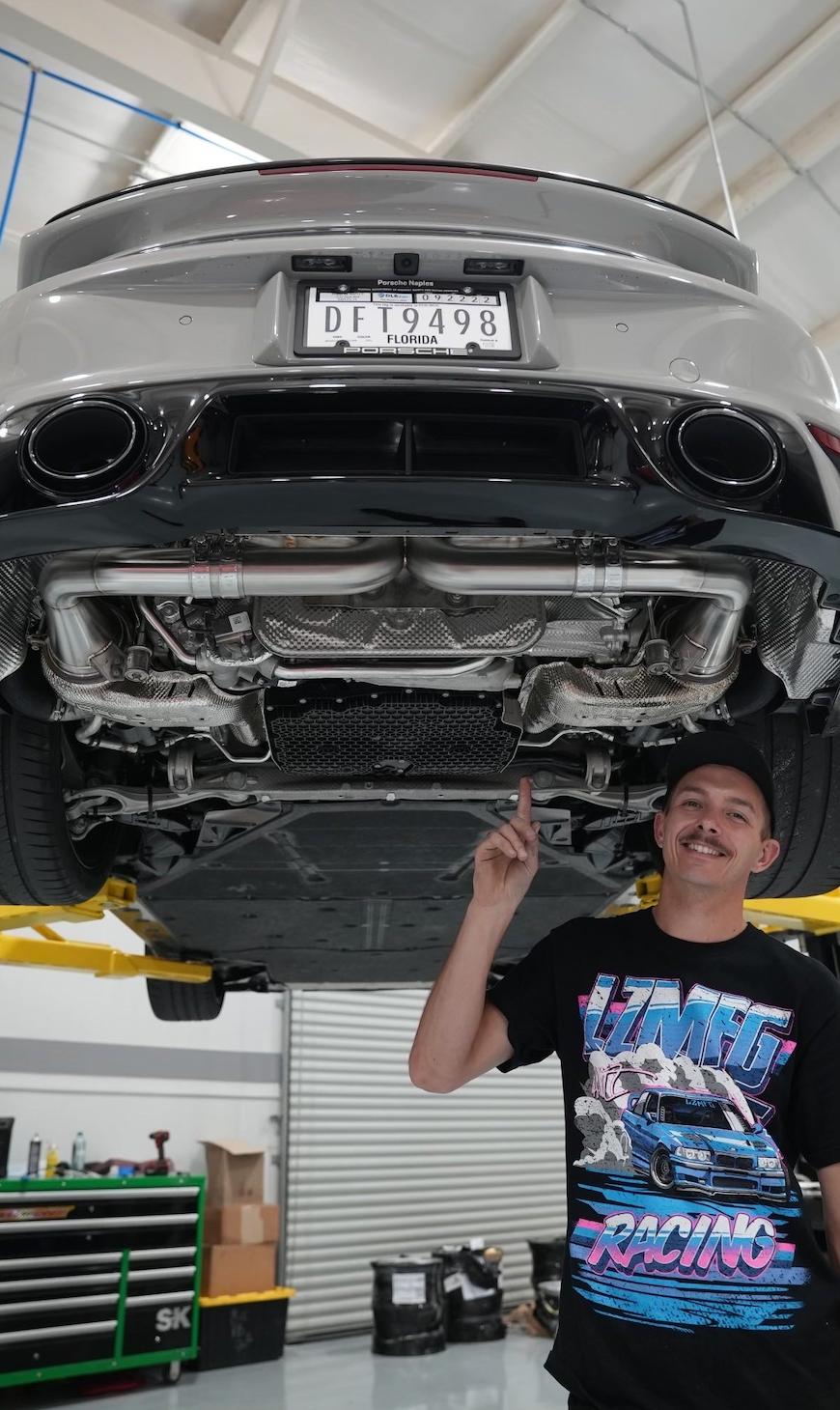 ADAM LZ 992 TURBO S ENHANCED
Former BMX rider, current Formula Drift racer and YouTube star Adam LZ has had a busy week launching FIVE, yes that's right, FIVE brand new cars to his garage and we had the pleasure of sending over one of our exhaust systems to enhance our personal favourite of the bunch!
Adam re-ordered a 992 Turbo S after having previously owned one not too long ago. He contacted us to let us know he had another on the way and would like the exact same set up again as he enjoyed it so much the first time round.
INCONEL CAT DELETES
TITANIUM CENTRE (VALVED)
This combination of parts is not only direct replacement but seriously improves the performance of this already mighty car. Huge gains in power and torque plus improved throttle response and much faster turbo spool make for a pretty formidable set up when you also consider an overall weight reduction of 15.54kg (34.26lbs)
This is the same collection of parts that we ran on the JCR 992 Turbo S. Nice and quiet with valves closed meaning you can still enjoy the car day to day on the street but once you open up the valves and select sport mode the exhaust really comes to life, absolutely transforming the factory sound and overall experience from this awesome car.
We also sent over a set of our BILLET SHIFT PADDLES and TITANIUM FOLDING TOW HOOK which we're looking forward to hearing Adam's feedback on once he gets an opportunity to install.
Congratulations to Adam on an amazing week of new cars. We hope he enjoys his new JCR exhaust system and look forward to working with him again in the future.
Check out the video below to see the installation of the JCR INCONEL CAT DELETES & JCR TITANIUM VALVED CENTRE on Adam's new 992 Turbo S.
JC