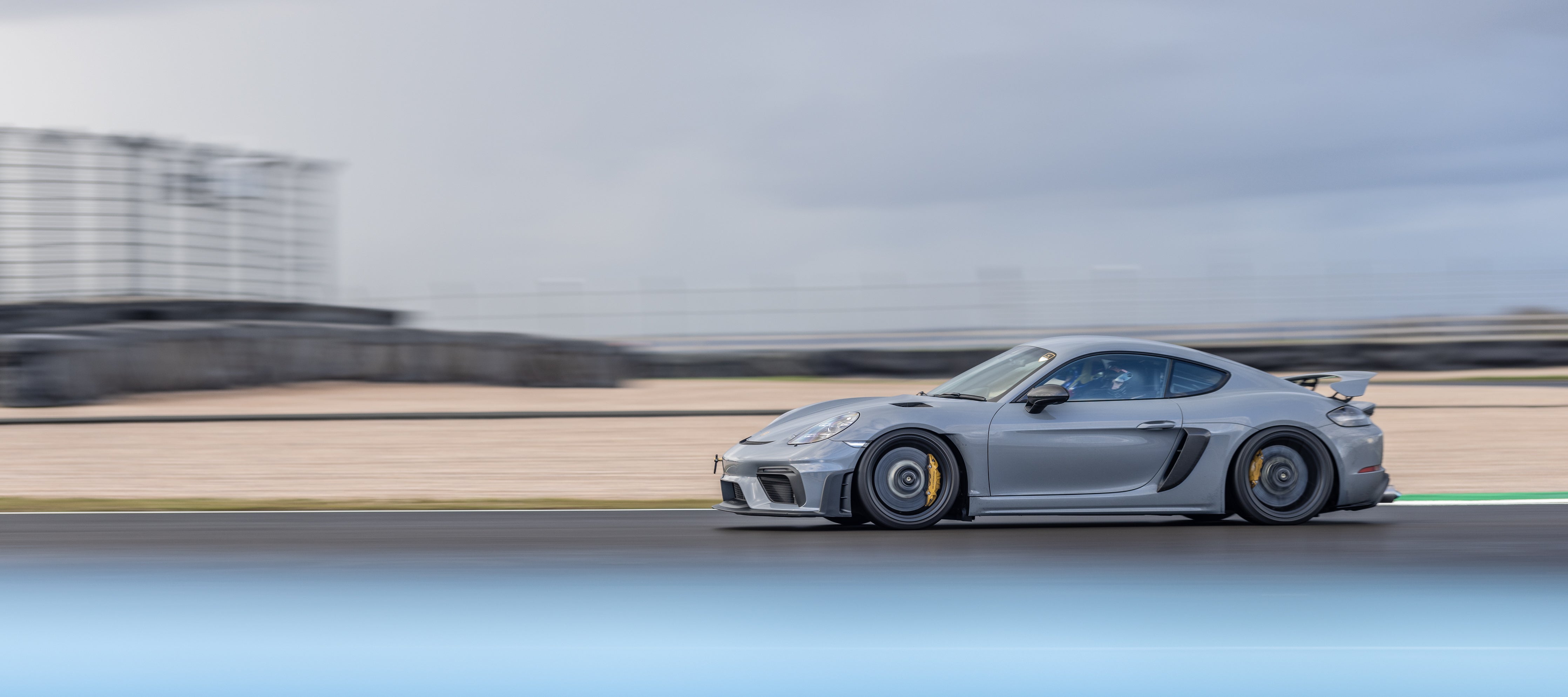 This month we've finally been back at the track, just where we belong!
The winter break this year has felt particularly long, but exciting too with the build of the new development car for the 2023 season.
I've been itching to get back behind the wheel and get some track testing underway so when Saturday 18th March came around with a Porsche only RMA track day at Donington Park GP circuit, we'd never been happier to set our alarms for 6am. 
Having the Michelin Pilot Sport Cup 2R tyres installed to the car was the only option for us when creating our perfect, performance orientated 718 GT4. However, with less than optimal and changeable conditions on the horizon the evening before we swapped them out for a fresh set of Michelin Pilot Sport Cup 2 tyres, which turned out to be a great decision.
The weather was as British as it gets on the day. Torrential rain showers turning into bright sunshine and almost immediately followed by more rain throughout the day certainly made for some interesting laps.
The changeable conditions did slightly limit what we were able to achieve in our planned runs however the day was still a great learning exercise with the new modifications installed to the car.
Never the less, it was great to catch up with friends and customers throughout the day.
FULL 718 GT4 v2.0 SPEC (ON THE DAY)
INCONEL RACE MANIFOLDS
INCONEL LINK PIPES (RACE CATS)
TITANIUM SILENCED TIPS
BILLET ALUMINIUM SHIFT PADDLES (SPEED YELLOW)
TITANIUM FOLDING TOW HOOK (BLACK)
FIXED BUCKET SEAT CUSHION COVERS (CLASSIC PEPITA)
MANTHEY RACING SUSPENSION KIT - PLEASE ENQUIRE
SURFACE TRANSFORMS BRAKE KIT - PLEASE ENQUIRE
GT4RS AERO PARTS - PLEASE ENQUIRE 
GT4RS CENTRE LOCK CONVERSION - PLEASE ENQUIRE
GT4RS MAGNESIUM WHEELS - PLEASE ENQUIRE
As with any UK track day there was a number of Porsche's running JCR products including this stunning 718 GT4 RS which we installed with our BILLET TITANIUM TOW HOOK and custom painted BILLET ALUMINIUM SHIFT PADDLES on the day... more photo's coming soon.
This day was also the first outing for Marley Kay and his freshly updated 718 GT4 build which you can read about more about here.
Our next track outing takes us to Silverstone on the 18th April with the British Racing Drivers' Club, an exclusive Members Club which I am a very proud Member of. The BRDC track days are always fun as it brings together a wide range of cars with the majority piloted by professional racing drivers so the level of driving at these days is super high!
We'll be aiming to finally reveal the finished JCR 718 GT4 v2.0 project and also collate some insane track content to share with you all over on our website and socials... Hopefully the UK weather plays ball so we can get the Sport Cup 2R's back on the car for some real high speed track testing.