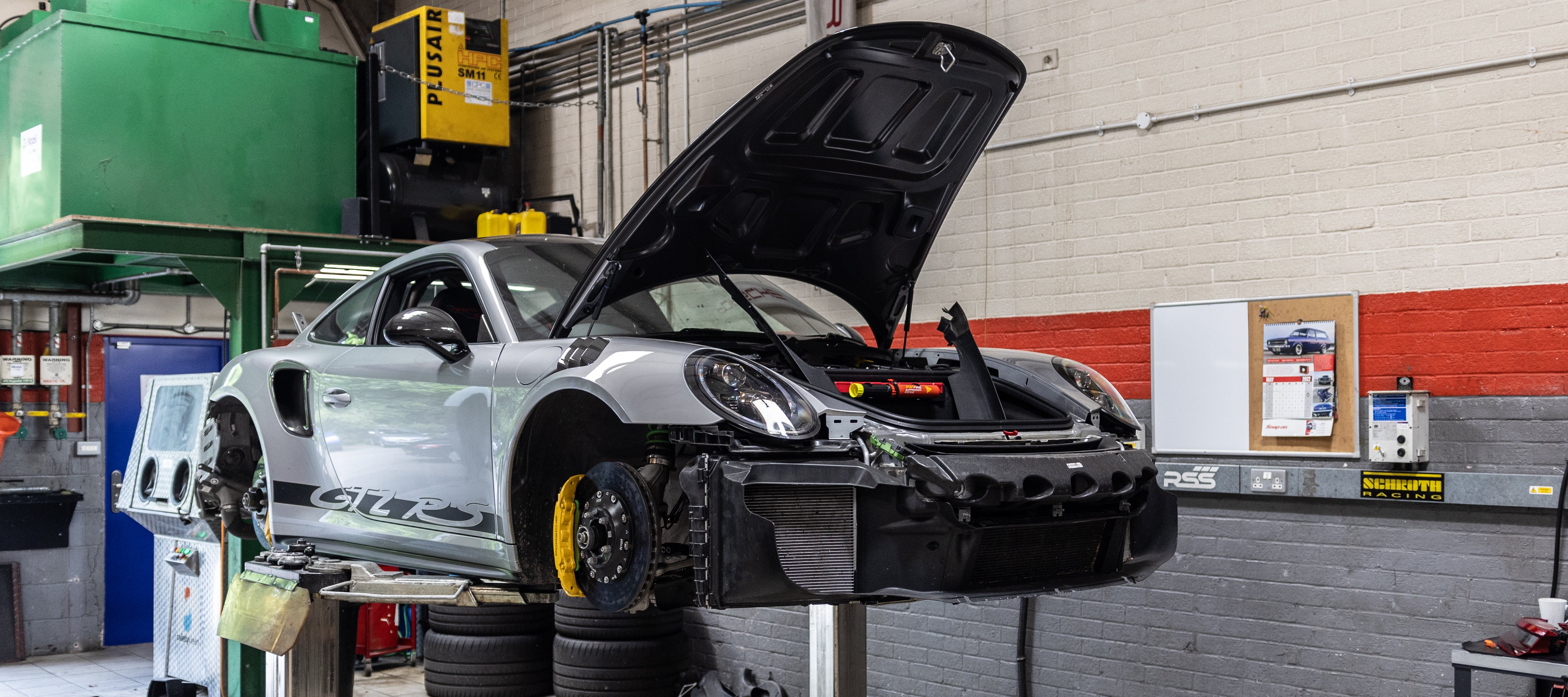 JCR GT2 RS / MANTHEY PERFORMANCE KIT INSTALL - DAY 2
Day two of the install of the Manthey Racing Performance kit onto our GT2 RS began with the standard front bumper being removed along with the stock splitter and underfloor.
This made way for the new Carbon Fibre front underfloor splitter to be installed
Front dive planes were then marked and fixed using the provided templates.
To conclude the morning we saw the new carbon fibre front underfloor aero installed. These strakes control the airflow under the car and work in conjunction with the rear diffuser to add a significant amount of overall downforce.
A busy afternoon commenced with the install of the remaining underfloor aero, namely the rear diffuser with much larger than OEM Carbon Fibre diffuser strakes.
Disassembly of the rear in preparation for the chassis reinforcement was next on the list. This is a very intricate job, just another reason why we put all of our trust in JZM to install this kit to the highest standard.
A number of billet machined components are bonded, bolted and riveted onto the rear chassis area to prepare and reinforce the chassis in preparation for the chassis mounted wing to be installed
The Manthey Performance Kit is not only fully Porsche approved from a warranty perspective but we feel this kit is a far superior option than any other Aerodynamic offering on the market today.
Development of such components we feel is really only possible with the facilities, equipment and budgets that Porsche as an OEM have at their disposal. We feel comfortable with putting our full trust in this kit to deliver a fantastic basis for the JCR GT2 RS to develop into one of the fastest road legal cars lapping circuits today.
Head over to our day two instagram reel to see the process in even more detail.
This work brought us to the end of day two. Join us again tomorrow to see what the JZM team achieve with day three of the install.
JC
Find out more about JZM here.
Want a Manthey kit or any questions? Get in touch with us.