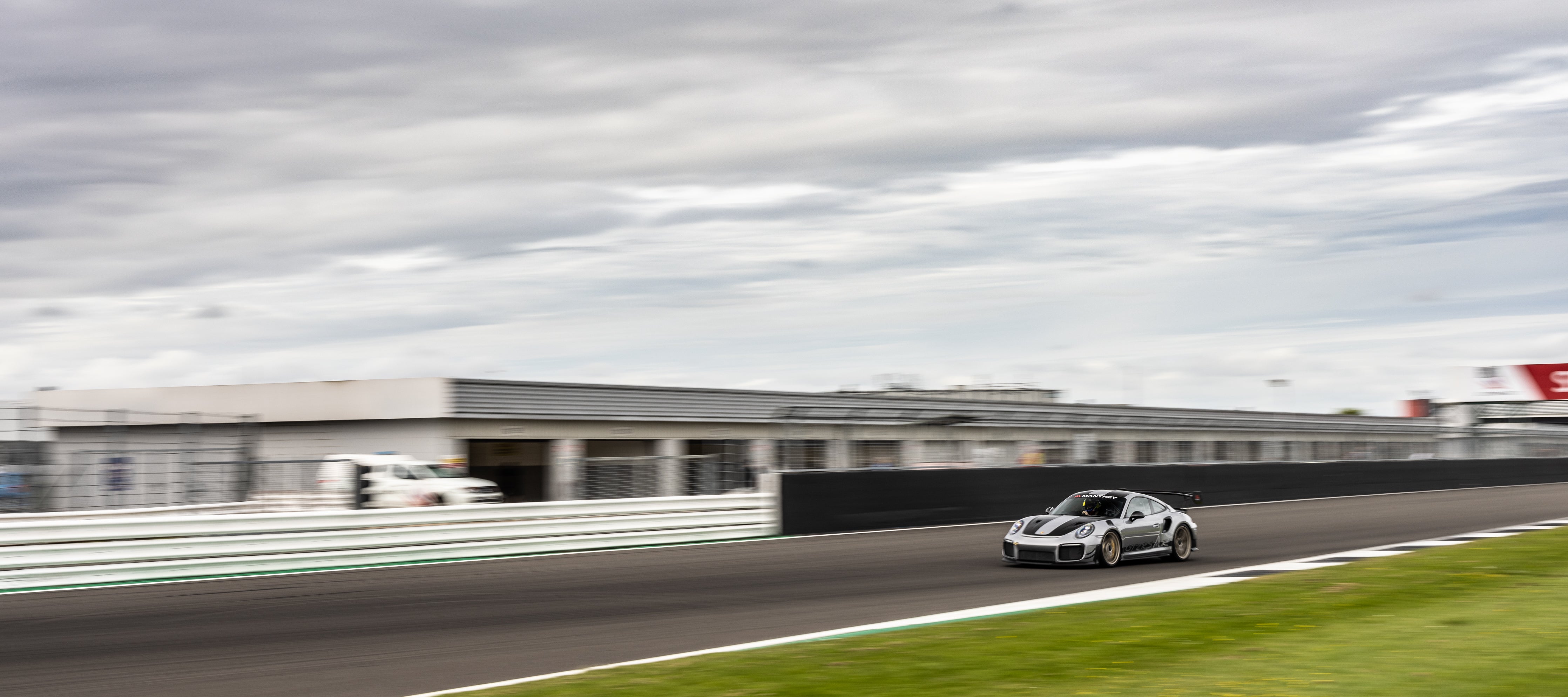 JCR GT2 RS MR FIRST TRACK TIME
'Wow' is the first word that comes to mind to describe how the JCR GT2 RS MR felt on track. This is the first time we've taken it out since having the Manthey Racing Performance Kit installed and the performance was just astounding.
We headed to Silverstone Circuit with the JZM team on Monday (24.05.22) to see what all the fuss was about with arguably one of the most expensive car upgrades on the market and well now we know why. I was very impressed to say the least.
Not only does the exterior of the car look a lot more purposeful and track ready but the interior has also been enhanced with our fixed classic pepita seat covers being the main aesthetic focus when you you open the doors to the car.
We have also installed our Inconel Valved Race Cats, Titanium Non Silenced Centre and Titanium Clamp Kit to the car. This addition not only improves sound but also drops a good amount of weight and gives the car a nice little bump in power and torque whilst improving throttle response and also lowering boost onset in the rev range by around 200rpm.
FULL CAR SET UP;
MANTHEY RACING PERFORMANCE KIT
JCR INCONEL VALVED RACE CATS
JCR TITANIUM CENTRE (NON SILENCED)
JCR TITANIUM CLAMP KIT
JCR SEAT CUSHION COVERS (FIXED - CLASSIC PEPITA)
JCR BILLET TITANIUM TOW HOOK
SURFACE TRANSFORMS PCCB REPLACEMENT BRAKE KIT
PAGID RSC1 BRAKE PADS
We went along to the day with the intention of eclipsing the current best lap time of a 2:07.33 set by myself in the Topaz Detailing GT2RS MR however, sadly we couldn't get a clear enough lap due to it being a public attended Silverstone Track day. The fastest lap we achieved was a 2:08.55 however adding sectors together we know we can run a low 2:06 so we're very much looking forward to the next opportunity to getting out at Silverstone GP Circuit.
I was extremely impressed with the overall performance of the car. The additional aero now means we can carry more speed and also we made a bunch of changes to the set up of the dampers throughout the day to optimise the handling and aero balance.
We were joined on the day by our close friend and YouTuber Archie Hamilton who will also be documenting our JCR GT2 RS MR journey. It was great to be able to take Archie out in the car so he could experience the improved handling and feeling of the car since its new additions.
Check out Archie's video below to see how we got along on the day
It was great to also catch up with several customers and friends who were all also sporting JCR products including our good customer Jonny Walker and Ben Eaves 991 GT3 RS.
Next up is a trip to the seaside... Destination: Trac Môn Anglesey Circuit
JC
Check out our full JCR GT2 RS MR Silverstone gallery below -