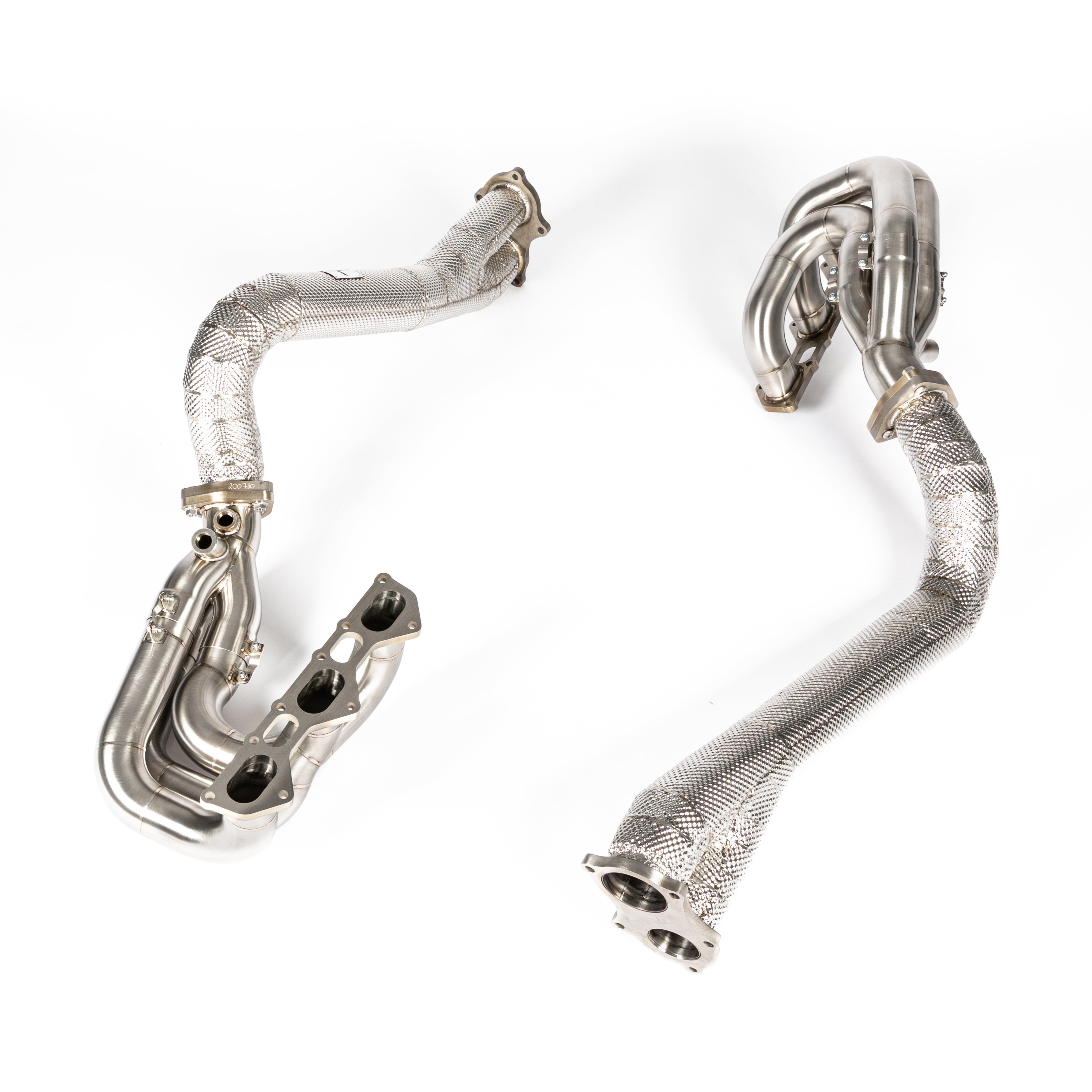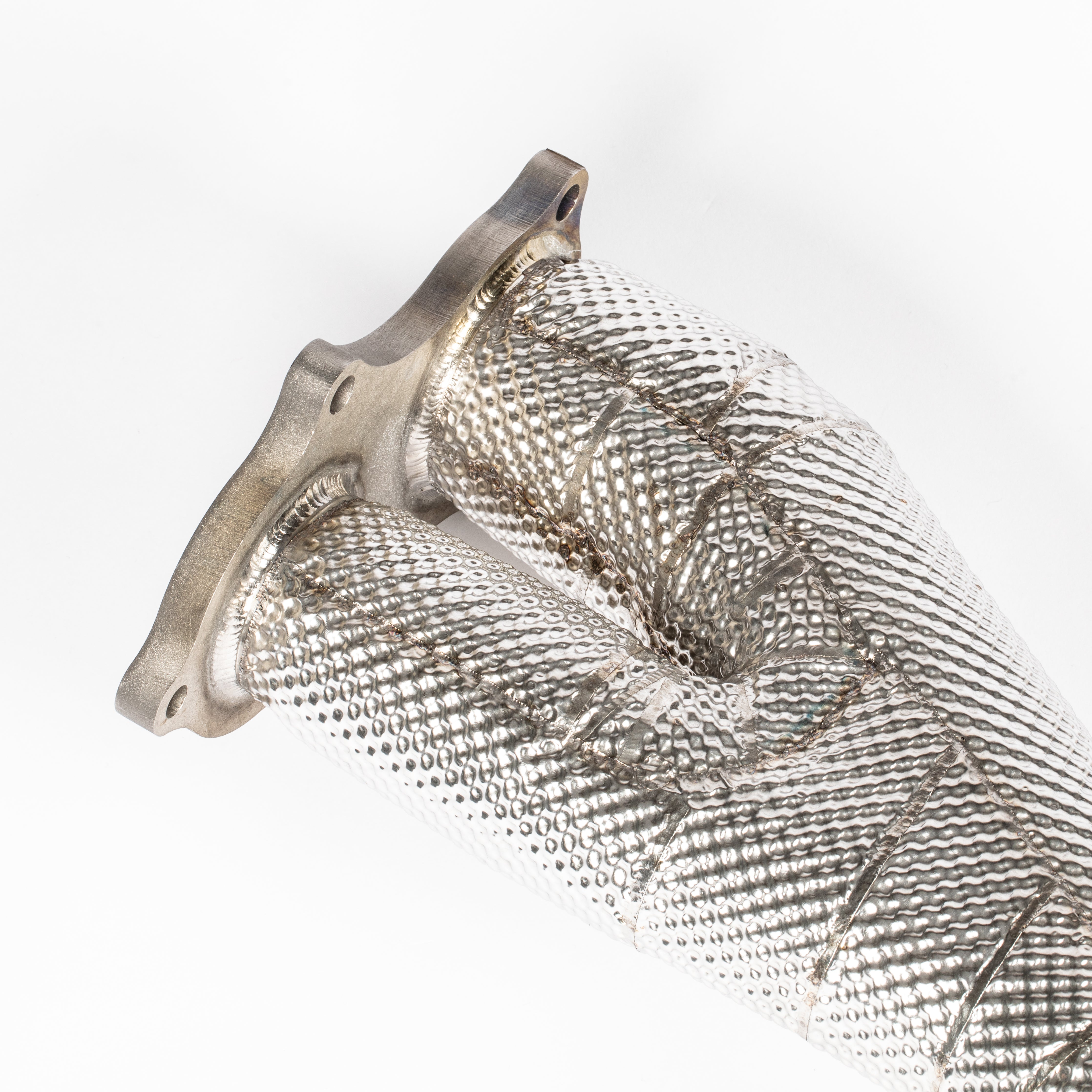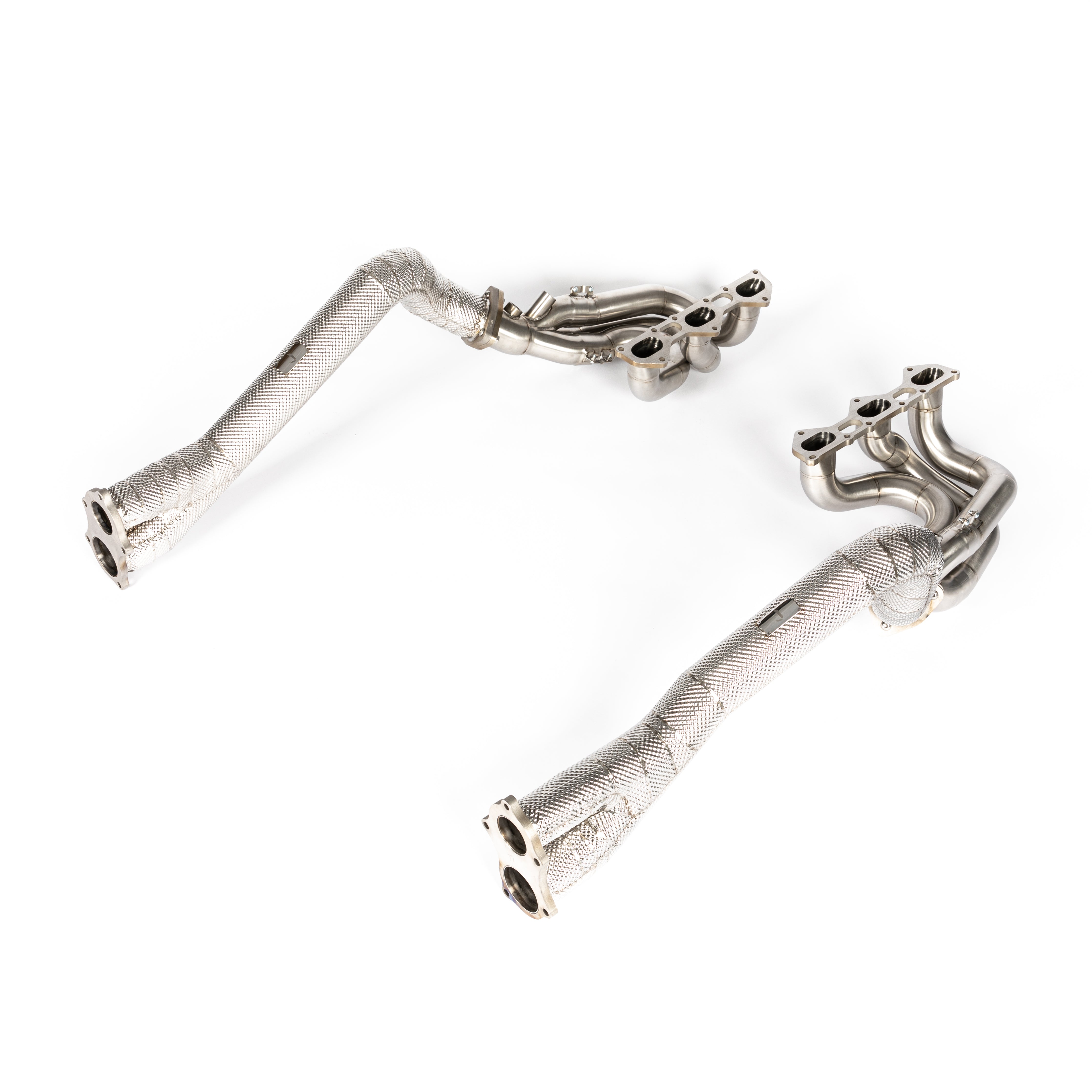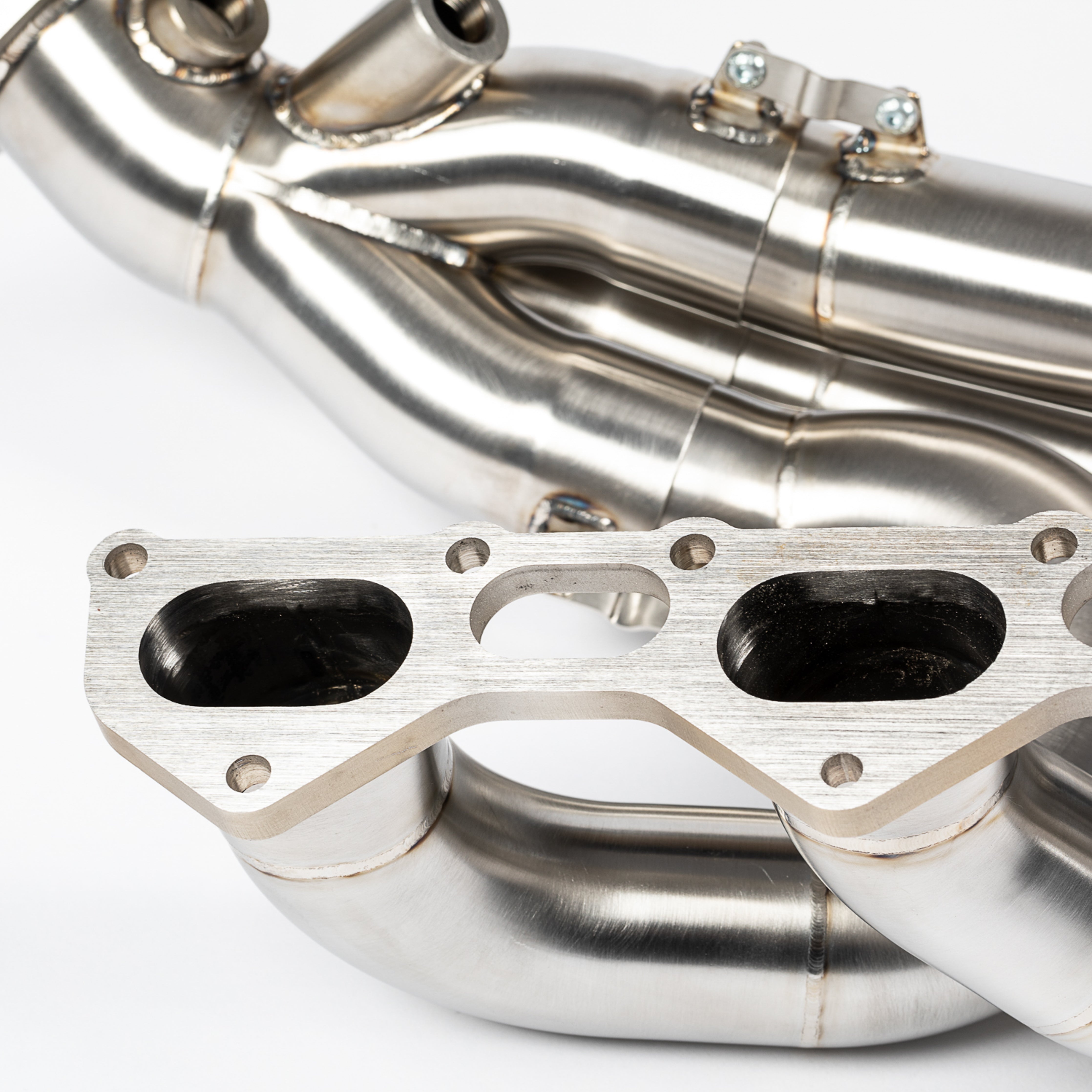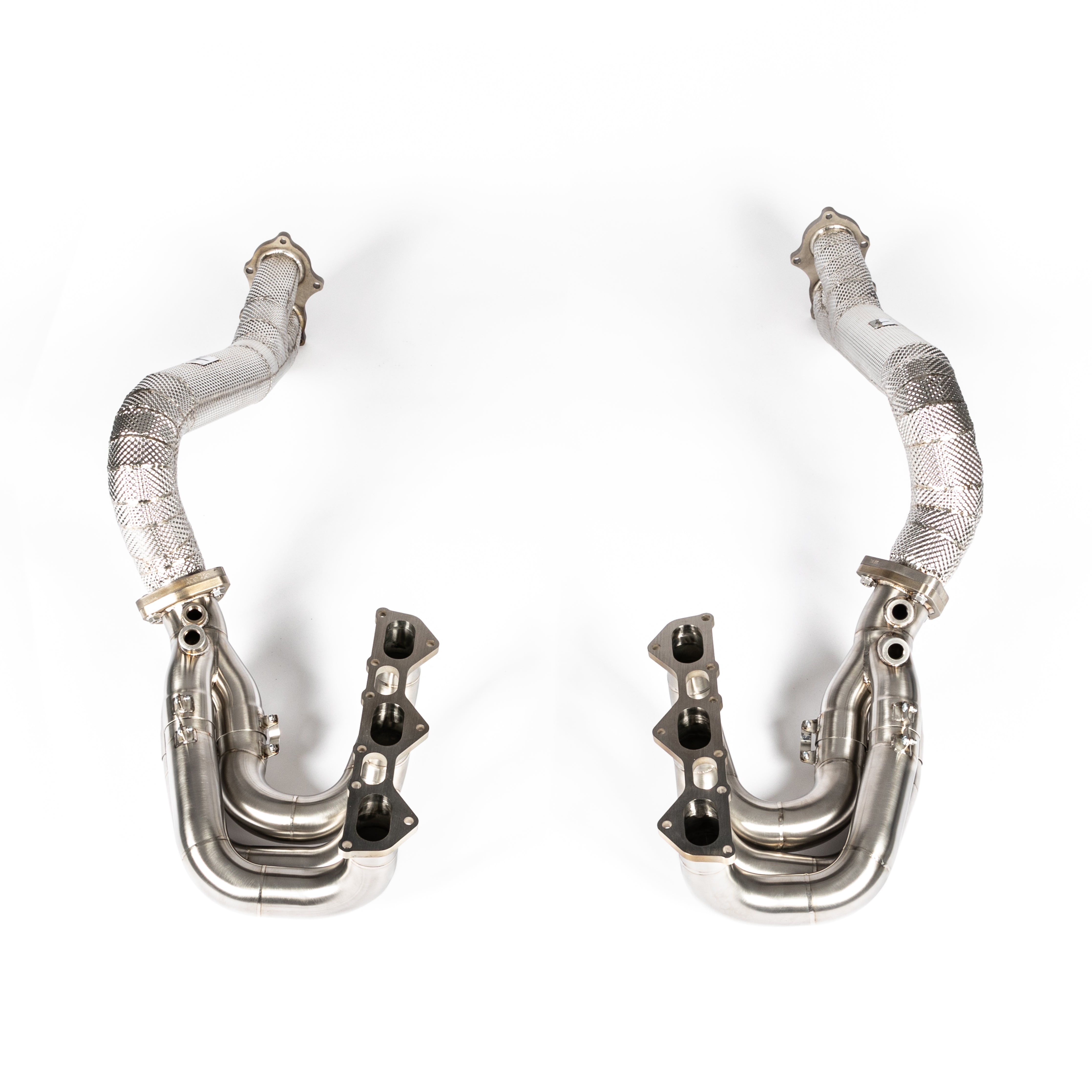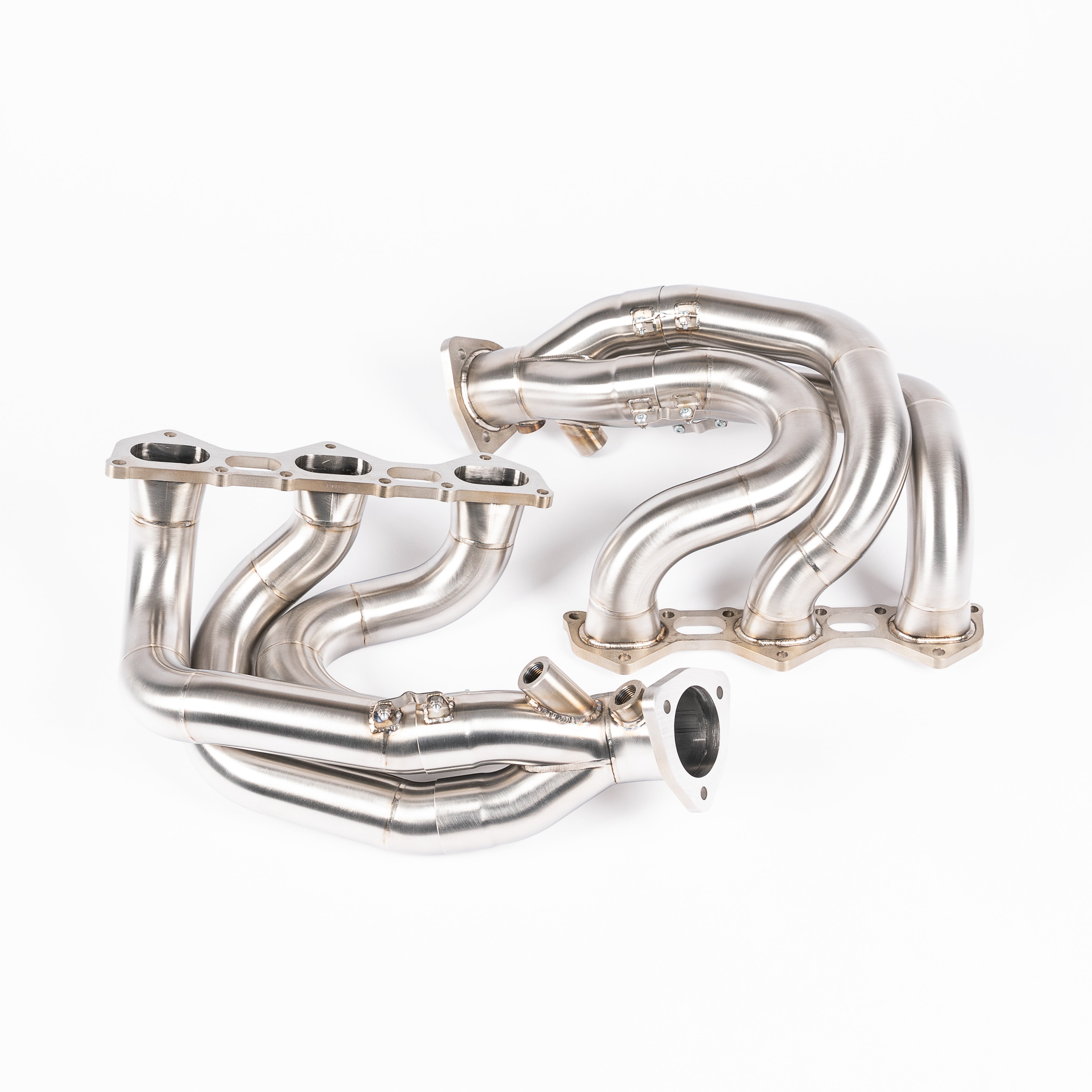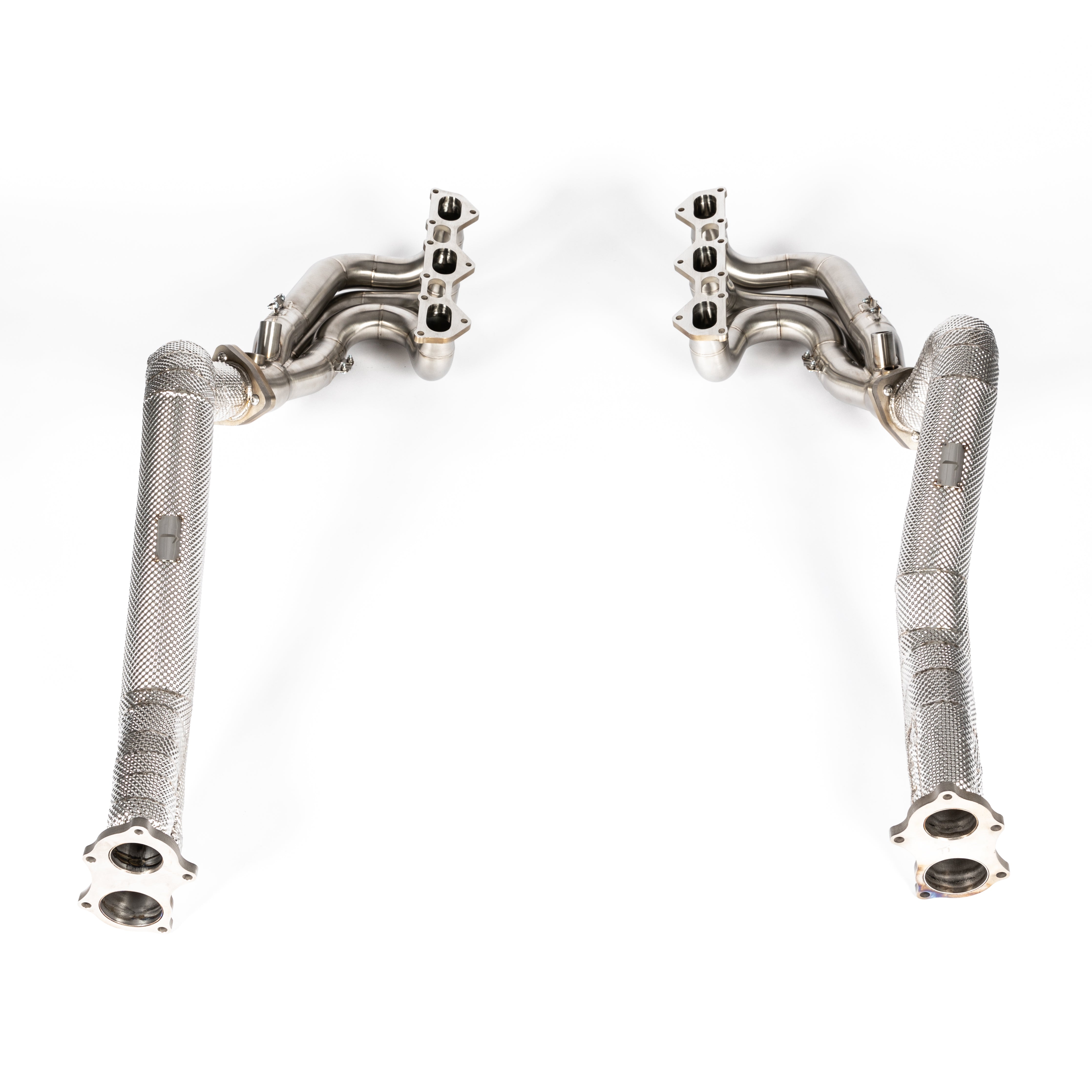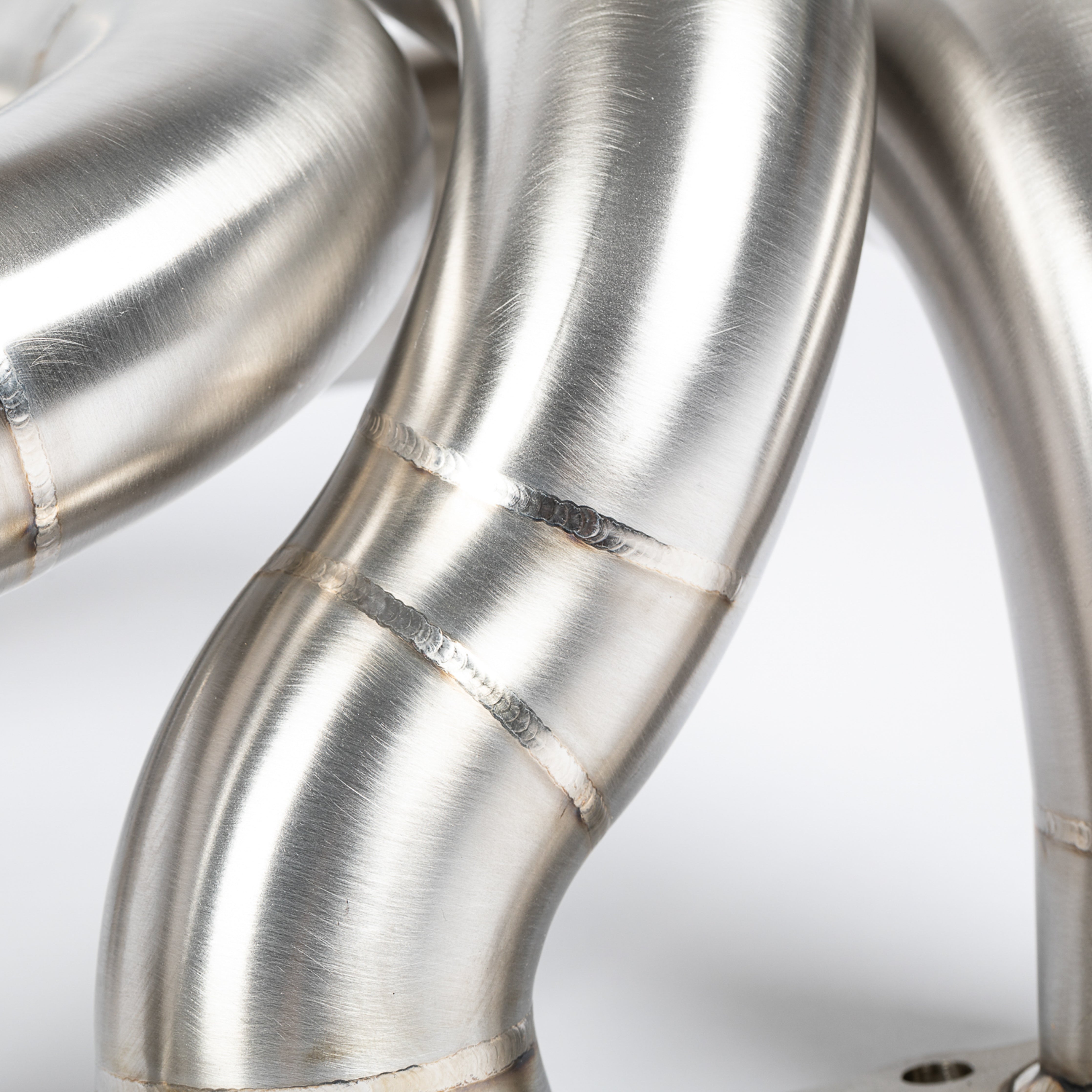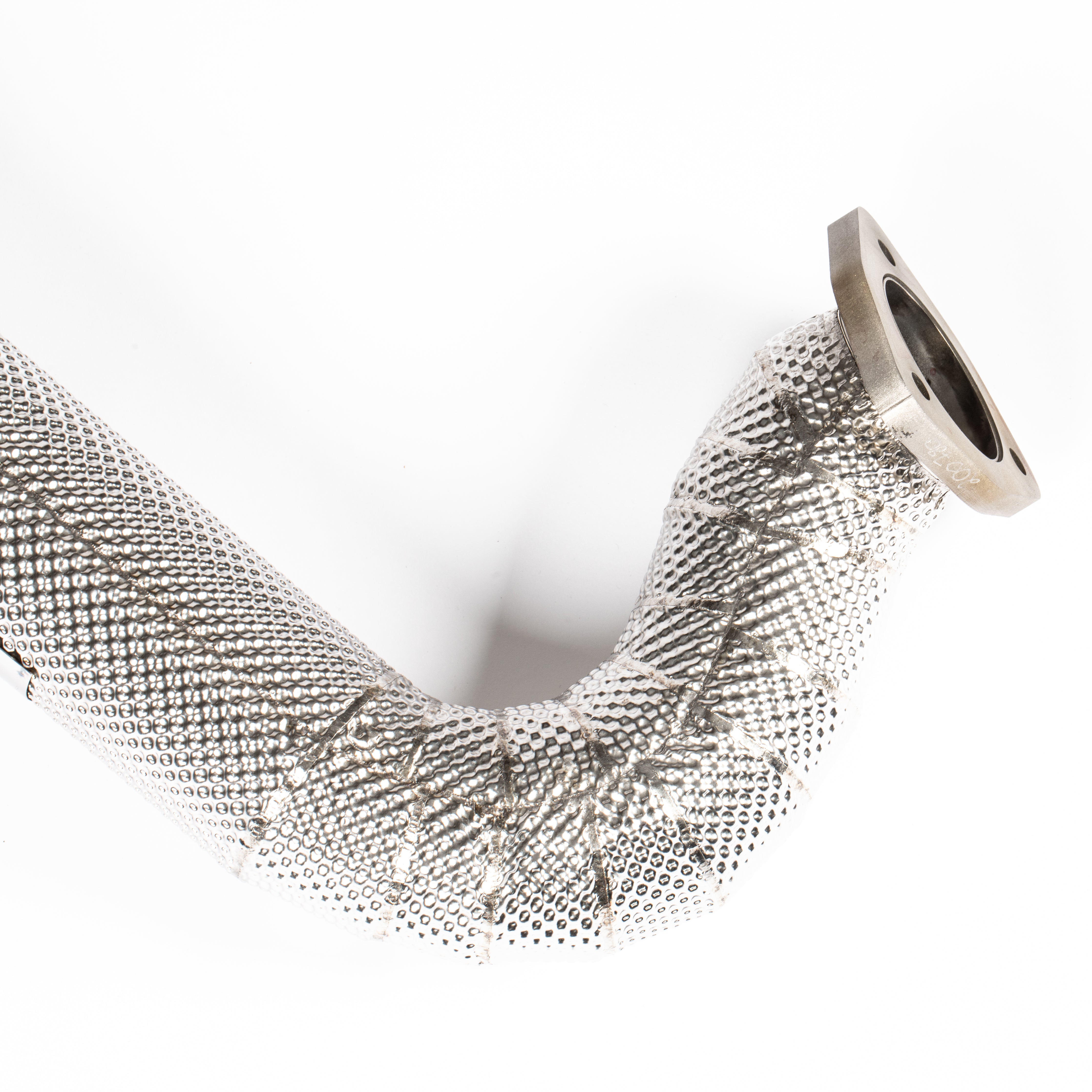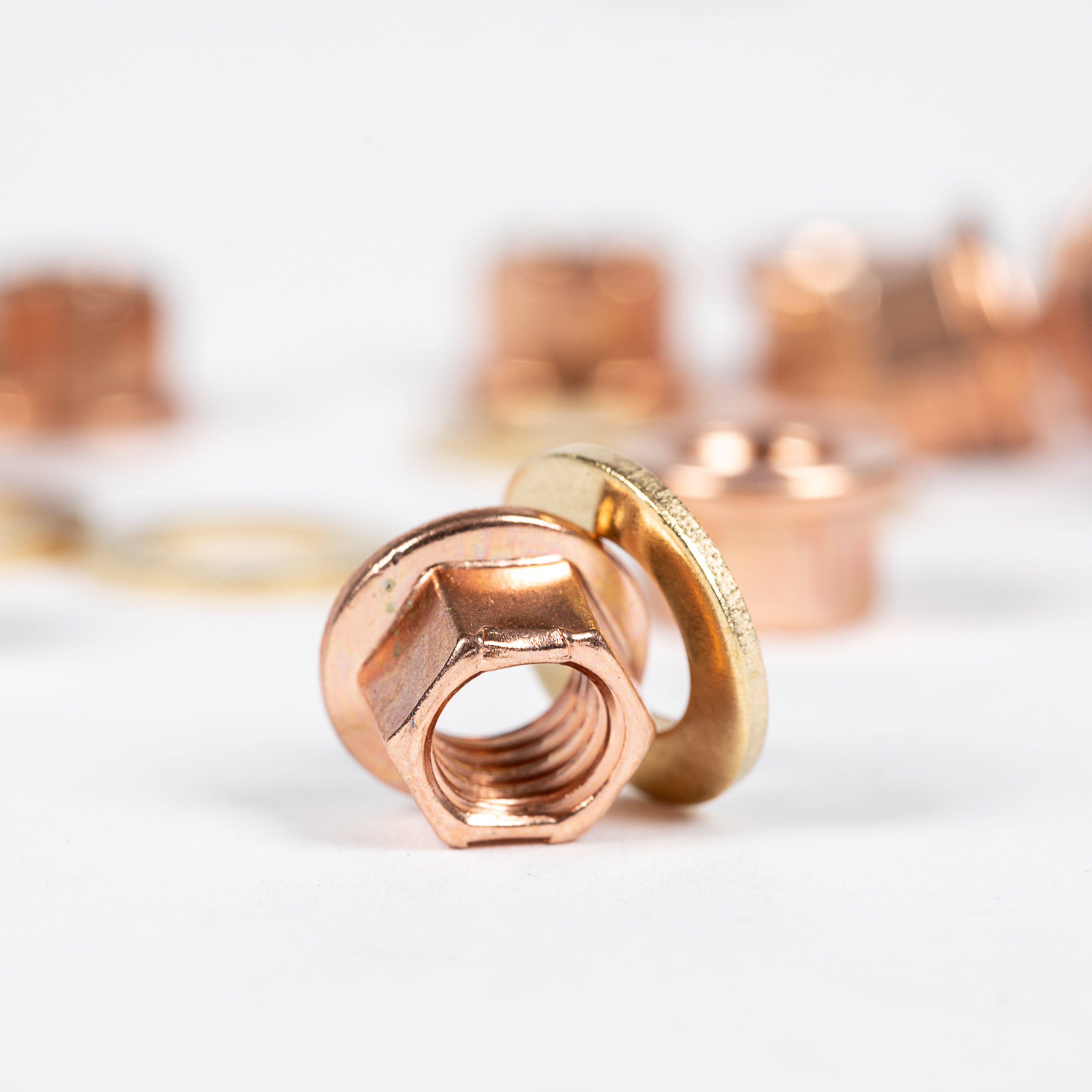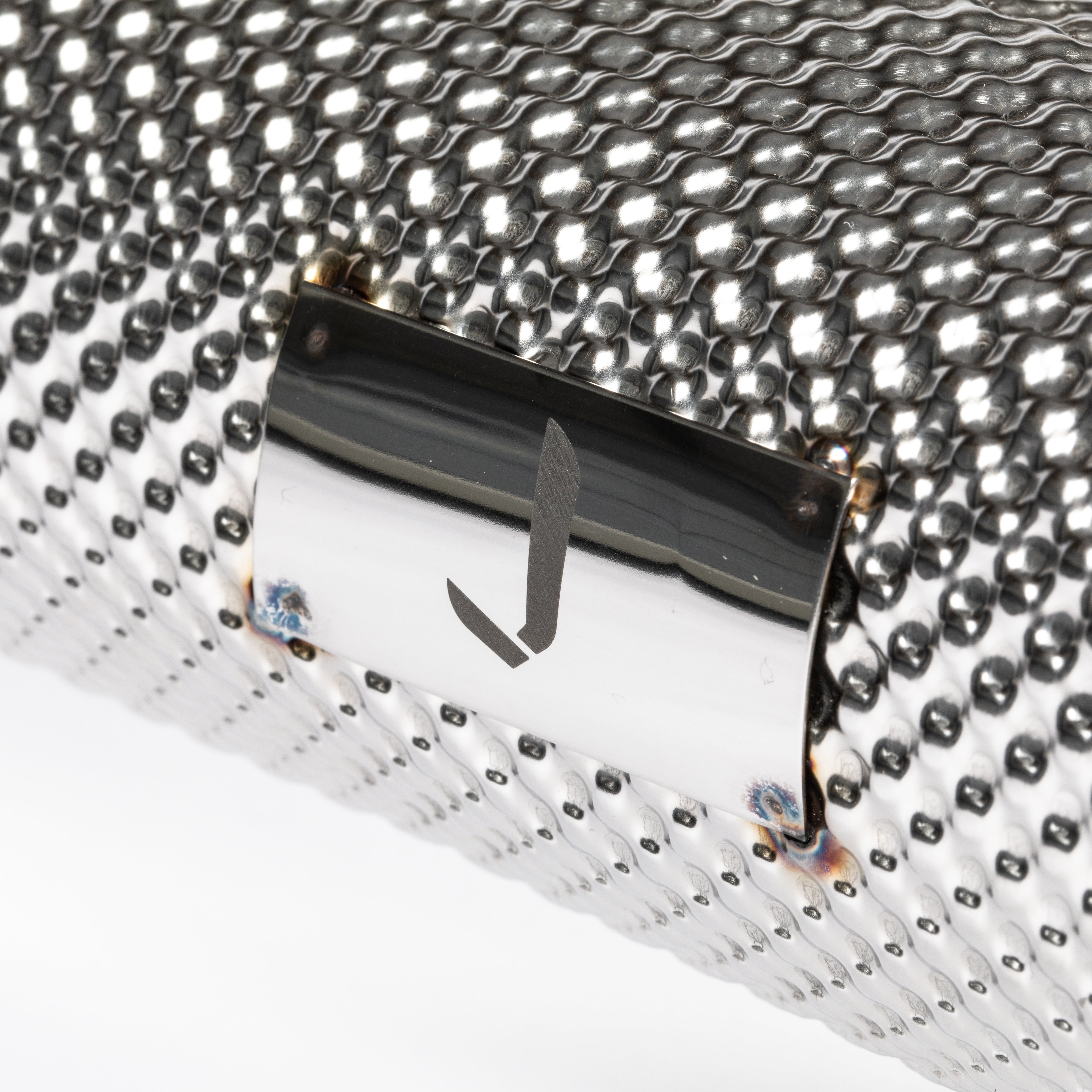 INCONEL RACE MANIFOLD & TITANIUM LINK PIPES (NON SILENCED)
Introduction
The new 718 GT4 and Spyder has been receiving excellent reviews from magazines and customers alike, however there is one stand out point which is mentioned over and over. The sound! Gone is the soulful scream of the 981 GT4 & Spyder instead replaced with a flat and uninteresting exhaust note, drastically reducing the all-important fun factor of this otherwise fantastic car.
The introduction of WLTP regulations have seen the introduction of OPF (exhaust particulate filters) and very restrictive rear silencer assemblies into the latest generation of models. The OPF serves as an emissions device but has a secondary impact which is very obvious to anyone who's heard just how muted all of the latest generation cars sound.
We are releasing exhaust solutions for these OPF equipped cars, releasing performance and unlocking the glorious sound.
Direct Replacement / Modular Fitment
The JCR Inconel Race Manifolds and Titanium Non Silenced Link Pipes are a full direct replacement product for the OEM 718 GT4 and Spyder manifolds and OPF Pipes. No fabrication required and no additional parts. Simply remove the factory manifolds and OPF pipes and replace with the JCR Inconel Race Manifolds and Non Silenced Link Pipes.
This combination of parts are also supplied with all necessary hardware to ensure an easy, hassle free install.
Heat Management
Each of the JCR Link Pipe options feature the highest quality thermal protection as standard. The heat shielding we have selected is used in the very highest levels of Motorsport to control temperatures whilst protecting and dramatically reducing the effects of radiant heat into the surrounding areas.
We performed 1000's of miles of testing on track with each of our options with and without thermal protection and saw a consistent reduction of the inner rear tyre temperatures of 15-20c when running on track. This reduction in temperate yields a real world performance advantage over an OPF delete without a thermal barrier applied.
Light Weight
Due to the light weight construction the JCR Inconel Race Manifolds and Titanium Non Silenced Link Pipes removes an impressive amount of weight from the factory exhaust set up. This truly is a win win modification.
Power Increase
Every component of the JCR Exhaust line is guaranteed to improve HP & TQ with varying results dependant on the combination of parts. Our most extreme free flowing system installed on the 718 GT4 / Spyder / GTS 4.0 will see gains up to +52.40WHP & +47.00WTQ (60.26HP/54.05TQ) along with great improvements in engine response and mid-range torque. Deleting the highly restrictive factory cats not only brings a hard edged race car sound but also drastically improves flow resulting in increased HP & TQ
Key Features
100% Inconel Construction (Manifolds)
100% Titanium Construction (Link Pipes)
Direct Replacement for OEM Manifolds & Link Pipes
-14.08kg (31.04lbs) Weight Reduction vs OEM
Improved Sound Quality
Product Notes
ALL models WITHOUT OPF monitoring do NOT require ECU tune

EU specification cars with OPF monitoring will require ECU tune to avoid CEL
Applications
718 Cayman GT4
718 Boxster Spyder
718 Cayman GTS 4.0
718 Boxster GTS 4.0
718 Boxster 25 Years
Pricing
£8695.00 GBP

All prices are listed without UK VAT included (20%) All UK based customers orders will be subject to UK VAT
Lead Times
JCR products are produced in batches, we aim to carry stock of all products however in the event that parts aren't in stock please allow approximately 30-60 business days after the point of ordering before your parts ship.
For lead time estimates prior to ordering please contact us via the contact page.
Sale price

$11,248.00 USD
Regular price
(/)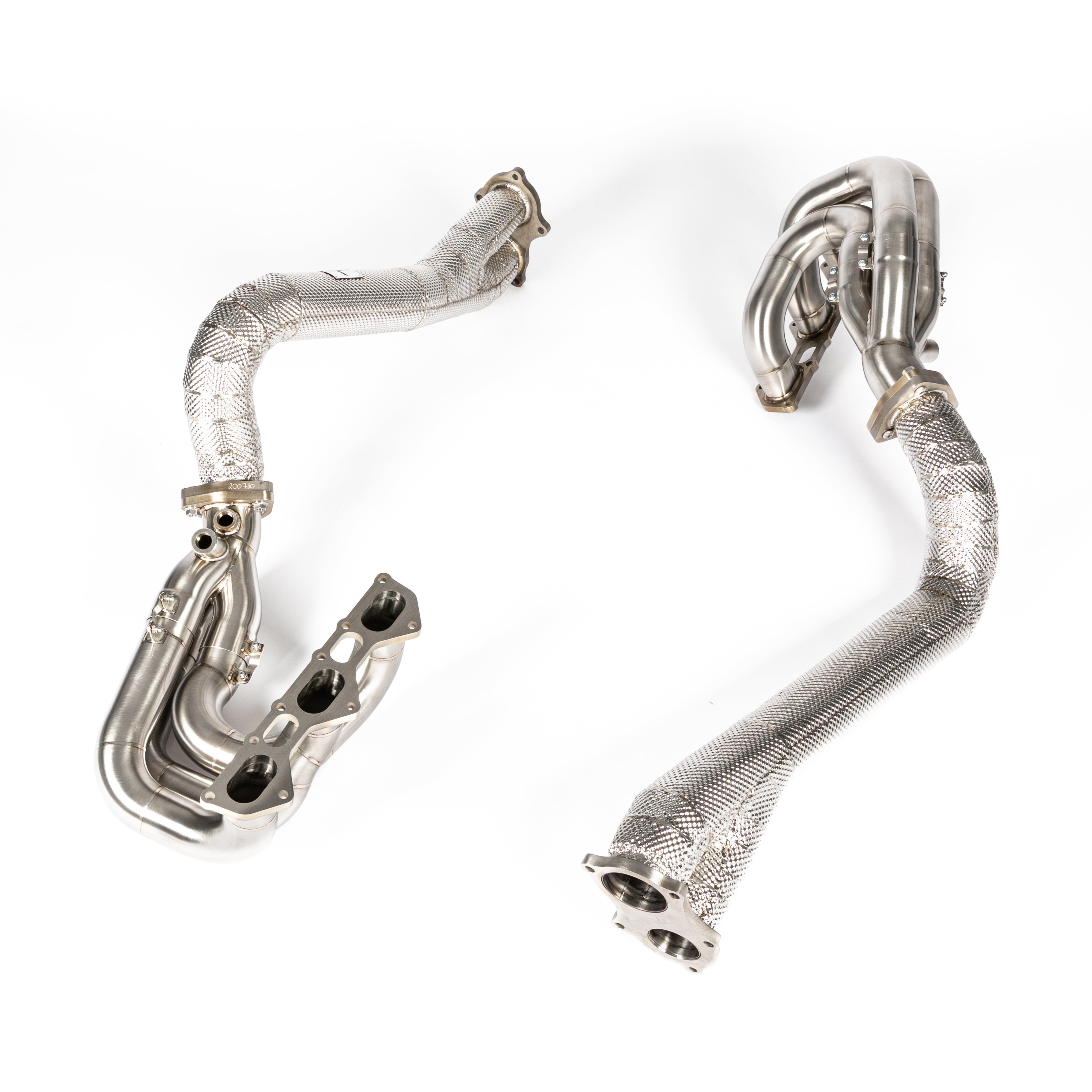 INCONEL RACE MANIFOLD & TITANIUM LINK PIPES (NON SILENCED)
Sale price

$11,248.00 USD
Regular price
Choose options