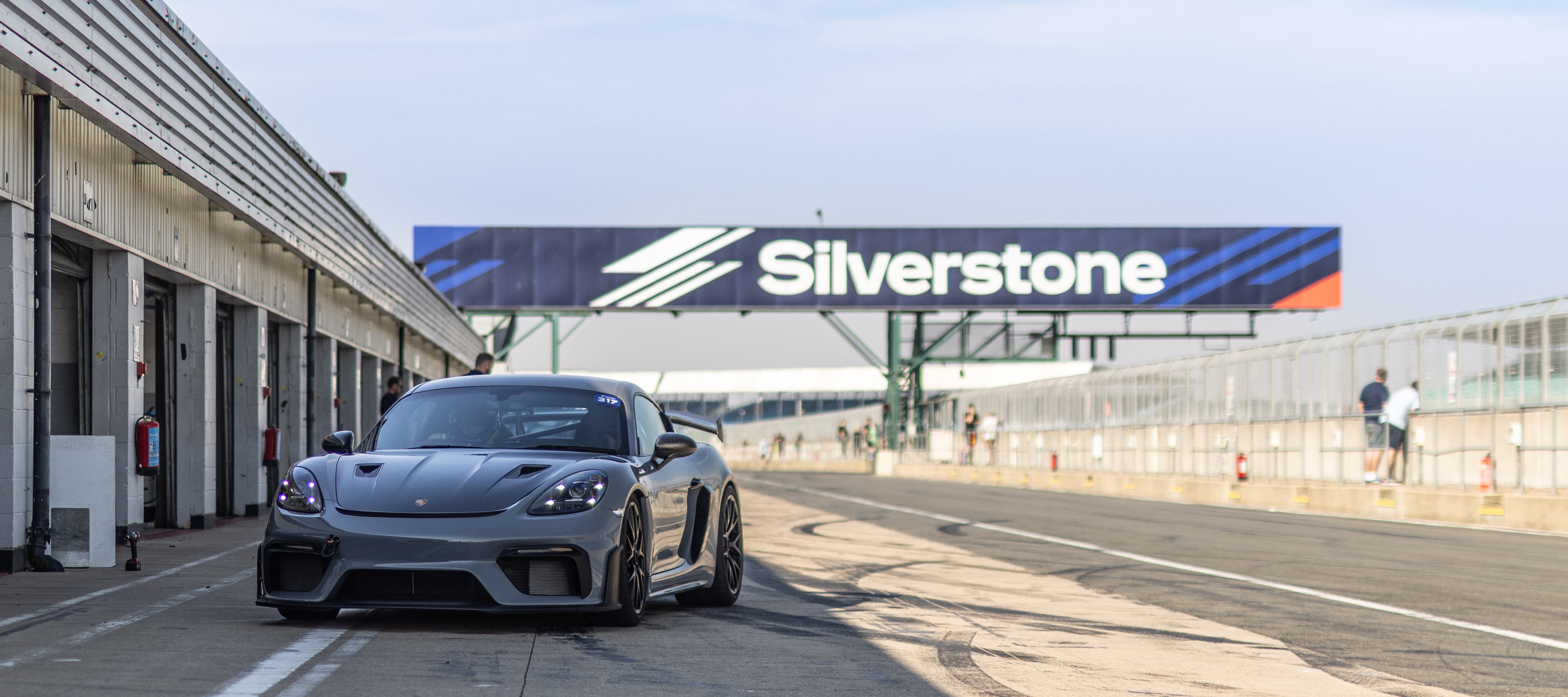 AN EXCLUSIVE TRACK DAY AT SILVERSTONE CIRCUIT
Last week saw us back at the famous Silverstone Circuit, taking on the Grand Prix track at the second exclusive BRDC track day of the year. A surprise UK heatwave meant we had an opportunity to test some hot weather set-ups, particularly handy for our clients who enjoy such climates more often! 
Going into the day, we wanted to conduct further testing on our development 718 GT4 RS manifolds and see how the car uses its Cup 2R tyres with a high track temperature. All of this is so we can take the most dialled-in version of the car to Spa Francorchamps at the end of the month.  
Arriving at the circuit, we swapped the Michelin PS4S out for a set of stickier Cup 2R tyres; with a 0% chance of rain all day, we thought this was the perfect opportunity to run these fantastic tyres. In terms of exhaust, the car was installed with our development 718 GT4 RS Inconel Race Manifolds and our full production spec Titanium Race Pipe (Valved) along with a set of our Titanium Weissach tips.
Once we'd got tyre pressures to where they needed to be and we were buckled in, it was time to get out on track. We haven't been to Silverstone in our GT4RS yet and it didn't disappoint. The weather and the car were excellent. Running all day on our preferred tyre made such a difference to the car's feel, but it also allowed us to note some suspension changes needed before heading to Belgium later this month. 
As well as being able to test our products and gain some vital time in the car, it was a great excuse to get out in the cars with good friends! Sharing the track with other JCR-equipped is always a pretty surreal experience, and there was an abundance of them on this track day. Ranging from a 2-day-old 992 GT3 MR to a 992 GT3RS and, of course, the famous Verde Benchesca 991.1 GT3RS. 
September will be a hectic month here at JCR with lots of product development and testing underway, including heading back to Spa Francorchamps with a little surprise up our sleeve which we can't wait to share with you at the end of the month. Keep an eye on our social channels and subscribe to our newsletter to keep updated on all things JCR.
See you at the track.