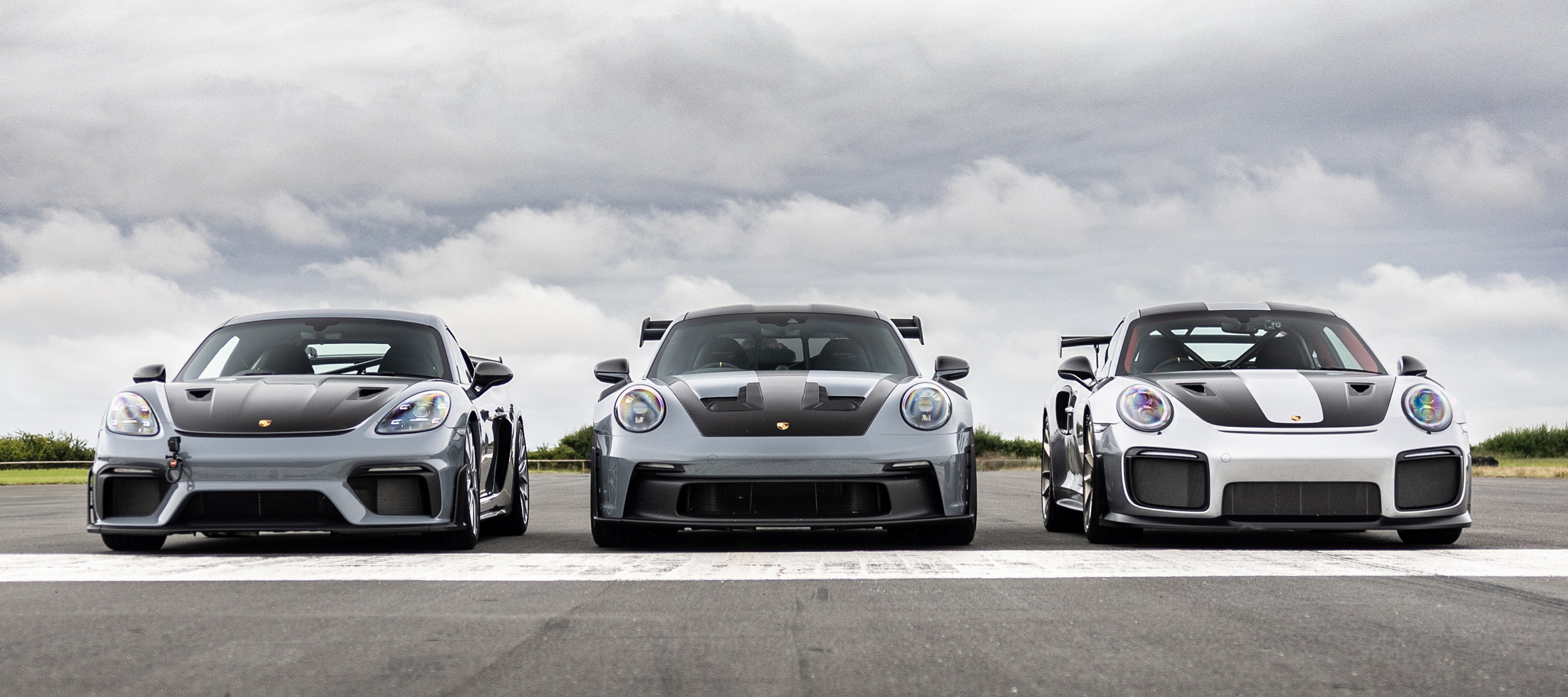 It was great to head back to the runway this week with our friend Archie Hamilton for some more fun putting our car up against some of the latest and greatest from Porsche's RS division.
I think I'd go as far as saying this one is probably one of the best match up's we've been part of yet. A 991.2 GT2 RS, 992 GT3 RS and the JCR GT4 RS all battling it out in standing and rolling start races.
It's important to say early on that we understand that these car's are not simply about straight line speed however this test is representative of real world scenarios and putting the cars up against one another in something other than a pure lap time battle can add some context and understanding to how each car yields such impressive results.
Importantly for us, this test also highlights that our exhaust products are working exactly as intended and deliver a tangible and measurable increase in performance over that of the OEM parts. Lines on a dyno graph are one thing but they dont win races in the real world.
This isn't the first time that the 718 GT4 RS has been put up against the 992 GT3 RS in a drag race scenario with Top Gear running the same race a little while back and the cars performing extremely equally. See video below for their drag race results:
With the results of the Top Gear test in mind you may well have expected our JCR GT4 RS to be the slowest of the three, however, as you know by now, here at JCR we work extremely hard to ensure that our cars and products deliver in real world scenarios so to anyone who is familiar with our products, this result won't come as any surprise!
Check it out for yourself below;
The JCR GT4 RS was equipped with the following parts for the filming:|
JCR INCONEL RACE MANIFOLDS - PLEASE ENQUIRE
100% OEM EU SPEC LINK PIPES (CAT AND OPF INTACT)
JCR TITANIUM RACE PIPE (NON SILENCED)
JCR TITANIUM WEISSACH TIPS
JCR TRACK GEO - PLEASE ENQUIRE
BILLET ALUMINIUM SHIFT PADDLES (SPEED YELLOW)
TITANIUM FOLDING TOW HOOK (BLACK)
FIXED BUCKET SEAT CUSHION COVERS (CLASSIC PEPITA)
SURFACE TRANSFORMS BRAKE KIT - PLEASE ENQUIRE
OEM PORSCHE MAGNESIUM WHEELS (SATIN SILVER) - PLEASE ENQUIRE
MICHELIN PILOT SPORT 4S TYRES
We also happened to be running a Dragy performance meter in the car at the time of the runs and the best figures we achieved are as below:
0-60mph - 3.19 seconds
1/4 Mile - 11.03s @ 126.77mph
Now we know that this is already impressive. Especially given the totally unprepared surface and the fact that we were also running with 100% stock link pipes with cat and OPF in place however, we're confident that we can dip the car into the 10 second 1/4 mile time range and potentially even 130mph+ on the trap speed once we re-install our Titanium Link Pipes and fit the car with a set of Cup2R tyres which should also improve the launch somewhat.
We'll be heading back to the Airfield soon with this goal in mind to see just how quick this car is with our full exhaust system installed. We'll be sure to share the results.
For a spot of context, the 991 GT2 RS headline times were as follows:
0-60mph - 3.50 seconds
1/4 Mile - 10.73s @ 137.21mph
And the for the 992 GT3 RS:
0-60mph - 3.32 seconds
1/4 Mile - 11.52s @ 124.12mph
Needless to say we're extremely happy with the performance of our parts and we're working hard to finalise a few things on our Inconel Race Manifolds and Titanium Link Pipe options such that we can launch as soon as possible.
The 718 GT4 RS once again proving itself to be a pretty formidable package and still with plenty of potential waiting to be unleashed with the help of a few choice modifications.
Once again, a massive thanks to Archie for inviting us along to be a part of another great video, we can't wait for the next one!