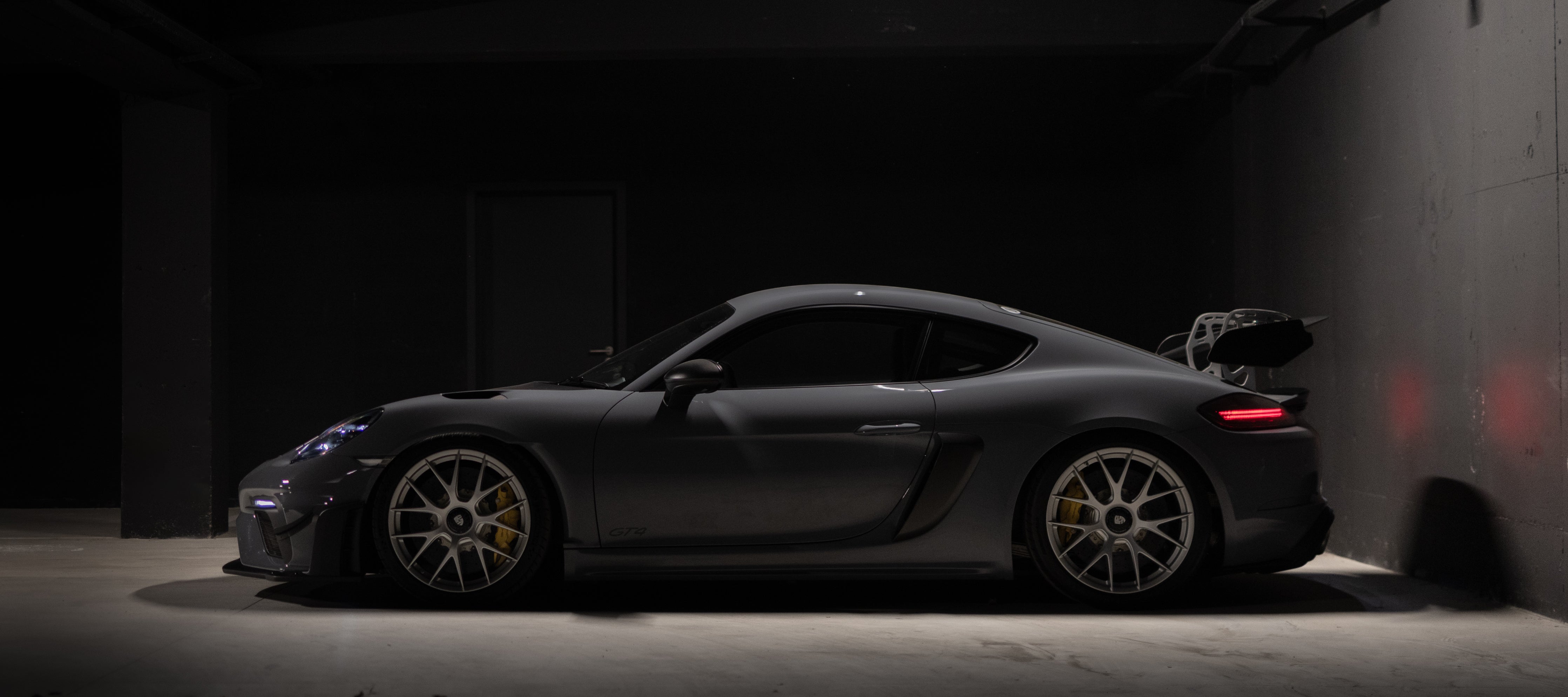 Last week we finally managed to fit some time into our dairies to leave the country and head over to the amazing Spa Francorchamps circuit for the RMA double header (Tuesday 30th & Wednesday 31st May) followed by the Nurburgring courtesy of the team at Manthey Racing.
It's been over a year since we were last at the stunning Spa circuit and what was initially organised as a few days away testing turned into a week-long, 2000 mile road trip which also saw us including a full day on track at the infamous Nurburgring Nordschleife courtesy of the team at Manthey along with a stop off at the picturesque town of Brugge.
After an invite from our friends at RPM Technik we signed on to the Manthey Racing Porsche Track Day which took place at the Nurburgring on Thursday 1st June which as it just happened to be the day after our final day at Spa Francorchamps. An opportunity too good to pass on given the proximity!
The JCR 718 GT4 v2.0 ran with the following set up across the trip:
INCONEL RACE MANIFOLDS

INCONEL LINK PIPES (RACE CATS)
TITANIUM WEISSACH TIPS

INCONEL TIP ADAPTERS
BILLET ALUMINIUM SHIFT PADDLES (SPEED YELLOW)
TITANIUM FOLDING TOW HOOK (BLACK)
FIXED BUCKET SEAT CUSHION COVERS (CLASSIC PEPITA)
MANTHEY RACING SUSPENSION KIT - PLEASE ENQUIRE
SURFACE TRANSFORMS BRAKE KIT - PLEASE ENQUIRE
GT4RS AERO PARTS - PLEASE ENQUIRE
GT4 RS CARBON FIBRE EXTERIOR PARTS - PLEASE ENQUIRE
GT4 RS CARBON FIBRE REAR WING - PLEASE ENQUIRE
JCR 3D PRINTED TITANIUM WING UPRIGHTS - PLEASE ENQUIRE
JCR CARBON FIBRE END PLATES (SUITABLE FOR 718 GT4 RS REAR WING) - PLEASE ENQUIRE
GT4 RS CLUBSPORT - CARBON FIBRE FRONT DIVE PLANES & SPLITTER - PLEASE ENQUIRE
GT4RS CENTRE LOCK CONVERSION - PLEASE ENQUIRE
GT4RS MAGNESIUM WHEELS - PLEASE ENQUIRE
Once at Spa we had a few jobs on hand. First up was to install our Titanium Silenced Tips to ensure that we passed the noise regulations at Spa. The parts worked perfectly and ensured no disruption to the days testing programme with a solid limit set at 105dB drive by it was better safe than sorry.
We also ran two sets of wheels throughout the trip. Our 'road' set (silver) installed with Michelin Pilot Sport Cup2 tyres and our 'track' set (black) installed with the super sticky Michelin Pilot Sport Cup2R tyres.
Using our trusty Hytorc Centre Lock Wheel Gun we quickly swapped over throughout the trip multiple times depending on the conditions and specific tests that we were running.
This trip allowed us to perform an accelerated test programme on the new JCR 3D Printed Titanium Wing Uprights and our new Carbon Fibre End Plates suitable for the factory 718 GT4 RS rear wing and evaluate their effectiveness whilst verifying and validating stress analysis data relating to durability.
Testing was a great success and the wing uprights performed exactly as we had hoped based on our simulations and initial designs. We will be producing an in-depth blog and video focussing solely on the testing process, our findings and the specific production techniques once the parts are ready for full scale production.
In the meantime it's great to say that we will be progressing from this point with the current design and making these parts available to market soon.
The primary focus of this trip was to expose the new wing uprights and end plates to the extremes to understand how they behave under the widest range of conditions possible. Over the course of this test, we have been able to expose the car and parts to an extended road trip across a broad range of conditions and road types.
Super high speeds on Autobahn and at Spa Francorchamps and Nurburgring along with multiple wing angle adjustments to aid in the understanding of the effectiveness and limitations of the factory 718 GT4 RS wing element.
We gathered some of our friends to join us on the trip, it was great to have @EAVSY with his GT3 RS & @10KAYGARAGE with his 718 GT4 convoy with us for the week with their Porsches enhanced thanks to a range of JCR parts.
It was then time to head to Nurburgring, a place that offers some quite unique challenges, perfect for product testing which certainly explains why so many manufactures use this circuit in the development process.
This provided a great opportunity for us to expose some of our pre-production parts to forces and conditions seldom found on circuits across the globe.
A new circuit for us with only a handful of laps covered previously so certainly nothing impressive in terms of outright lap times. The best theoretical time was a 7:24 BTG (on Michelin Cup2 tyres)
The Nurburgring day did however provide some great data, especially on the long straights which helped demonstrate the effectiveness of our exhaust products in terms of adding straight line punch over that of a 100% stock 718 GT4.
It'll certainly be fun to come back again and focus a little more on the lap times but that will require a good amount more laps of practice. This circuit is something that needs to be well and truly respected.
It was great to meet some of you at Spa and the Nurburgring. It was also amazing as always to see and hear JCR products on many other cars at both locations. It will always be a pinch me moment seeing our products in the wild being enjoyed across the globe.
Now that we are back at base, we'll be removing the rear wing uprights and sending them for a high-tech CT scan to ensure that the part has not endured any fatigue which may not be visible to the human eye. All part of the process in ensuring we're delivering the very best products to our customers when the time comes to offer these parts for sale.
Another great trip completed with a huge amount of invaluable data collected. The JCR 718 GT4 v2.0 has been an incredible test bed over the course of the last 6 months but, as we promised, we'll be switching it up again soon.
Next time out at Spa we'll be in a different car entirely, any guesses?
JC