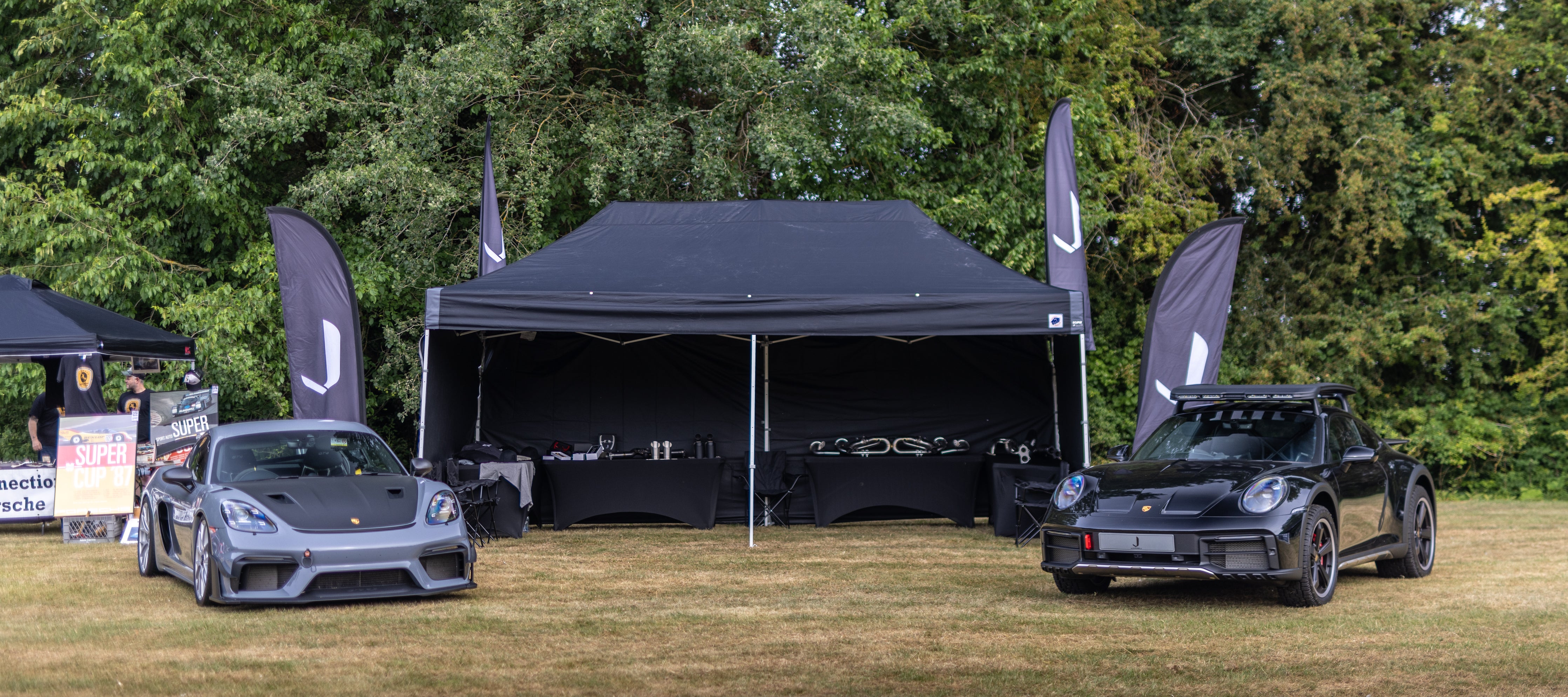 This year we were very excited to be a part of the Porsches By The Lake event, which is held at Little Eastern Manor in the summer. This year was their second time running the event and it was an absolute pleasure to be involved. An event solely to celebrate the cars we love the most for Porsche owners and enthusiasts. When we got the invite earlier in the year, we accepted immediately.
The event took place on Saturday, 16th June 2023, again at the lovely venue of Little Eastern Manor, located just on the outskirts of Essex. Due to the early start, we headed down with the JCR team the night before and stayed over at the stunning Down Hall, not too far from the event venue.
It was an early start, with set up scheduled between 7 and 8 am. We headed to the venue and set ourselves up on the vast green situated right by the lake.
Seeing some of our friends also exhibiting at the event was great. There were even some furry ones too!
The array of Porsches was just insane, with 500+ cars in attendance.
Some highlights for us included a few stunning 356 restorations from the lovely team over at Lux Classics. If you turn around from these gorgeous classics you'd be faced with a PTS Oslo Blue 996 GT2, a very similiar colour to our Neptune Blue GT2RS MR. On the Unicorn Lawn, there was also a plethora of lovely cars, including; a PTS Azzuro Thetys 992 GT3 Touring, a Guards Red and a black Carrera GT, a pair of brand new 992 GT3RS as well as a stunning Oak Green Metallic 964.
Now, every car there was beautiful in its own right, with all customers having their own story from collecting their car and their ownership so far.
We met so many new people, and it was great to see their cars and talk to them face-to-face about all things JCR. It was also great to meet so many of our customers who already have JCR parts installed on their cars, so a big thank you for coming over and introducing yourselves; it's always great putting to faces to names.
As always, seeing cars at events like this with JCR products installed is a great honourt, and whilst walking around, there were so many there representing our parts which is just amazing to witness.
We also took along a selection of our parts to physically show on the day. It's always a challenge to put across the quality of our work in images and words so it was brilliant to enable those who attended the event to physically hold and look closely at the details of our products in person.
The event was fantastic, very well run and had a brilliant turnout. Thanks to the organisers for inviting us; we can't wait for 2024's Porsche's by the Lake event which we're sure will be even bigger and better than this year!
JC